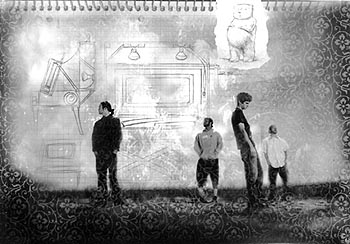 Will dredg be the next critical darling?

Heaven on Earth

Los Gatos band dredg debuts songs from its forthcoming release, 'El Cielo,' at the Icon

By Sarah Quelland

'THE RECORD WAS a mess," dredg drummer Dino Campanella tells me. "It took forever to make." It's Friday (July 26), and we're sitting at one of the high copper tables near the bar in the atrium at the Catalyst in Santa Cruz. The members of dredg have just finished their sound check, and Campanella and vocalist Gavin Hayes are wolfing down dinner before their set. Between bites, we chat about dredg's next Interscope Records release, El Cielo (due in stores Oct. 8), and the band's plans for its upcoming show at the Icon Nightclub in Palo Alto Friday (Aug. 9).

It's hard to believe this masterpiece of an album--one that's sure to make dredg a critical darling--was ever, as Campanella states, a "mess." "We were kind of frustrated for a while," he admits. "We weren't really happy with it." The bright side, however, is that the delay gave dredg the opportunity to write and record two more songs: the grand "The Canyon Behind Her," which he describes as the "long, epic one," and the jumpy "Convalescent." Looking back, Campanella says the album wouldn't be complete without those two songs.

Like its predecessor, Leitmotif, El Cielo stands as an ambitious concept album, but Campanella won't elaborate. "We're kinda keeping it a little secret for now," he teases. Hayes is slightly more forthcoming, saying the new album is partially based on sleep paralysis. "It's hard to tell without the artwork," he informs me. "It's hard to tell just from the songs."

The band spent time in Marin County recording El Cielo at George Lucas' Skywalker Ranch Studios. The result is an extraordinarily complex album that captures the many facets of dredg. Cinematic in scope, atmospheric in sound and expansive in vision, the 16-track release combines drum circles, drum 'n' bass, tinny trumpet solos, a full choir, Bulgarian chants and random chatter to create beautifully evocative and mysterious music.

Contrasting the ghostly instrumental "Walk in the Park," the twangy "New Heart Shadow" conjures up images of a dusty desert-road thriller. Another short, the exotic "An Elephant in the Delta Waves," features Vas singer Azam Ali, a dulcimer and tribal drums. There's a lot of diversity on this album, and yet, it's all undeniably dredg.

El Cielo stands as a testament to dredg's artistic integrity. The band hasn't backed down from the principles it expressed upon first signing with Interscope, and Campanella insists dredg is not doing a radio push for any one single or song. "We want to make fans touring for the right reasons first," he explains. Citing 311 as an example, he continues, "If you don't have a stable foundation, then they're never gonna be there. We want to be able to have a fan base that's there because they really enjoy the music, not because it's some hit on the radio. In order to have a career, you have to have fans that will be there after you're not on the radio and your success kind of dies down."

At the Catalyst show, fans showed up in droves to see their heroes and left as soon as they finished their set. There were a lot of South Bay faces in the crowd that will surely return for the Icon show. Neither Campanella nor Hayes can recall the last time they played the South Bay. Between writing, recording and touring, it's been a roller-coaster ride since signing with Interscope. But judging by their performance at the Catalyst, all the hard work has served to make these already remarkable musicians even better, and Hayes' plaintive vocals lend a mystical, at times shamanistic, enchantment to the group's songs.

For the Icon show, dredg has invited their friends downside, Division Day and Keeping Ellis to perform. The group also secured San Francisco DJ Arc Angel Gabe Real to spin before, between and after the bands. Campanella describes his style as "really soulful and clever" and says dredg wanted him "so we don't have a bunch of cheesy butt-rock between bands." Hayes adds, "We just want a complete night of good music."

After the Icon, dredg has a couple dates with 311 and then starts a tour with Taproot and Deadsy (!) that hits Slim's on Sept. 12.
---
Send a letter to the editor about this story .
---
[ Silicon Valley | Metroactive Home | Archives ]