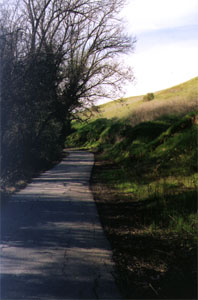 Gappy Trails to You
Local trail is a work in progress, with hurdles of private ownership, corporate expansions still standing in its path
THE BAY AREA RIDGE TRAIL is no Appalachian Trail, and it is not meant to be. America's long-distance hiking trails connect stretches of wilderness over vast distances, allowing people to spend months on the trail if they choose, moving through varying climates, ecosystems and regions. The Ridge Trail is a long loop around a relatively small area. Hiking the entire thing will only bring you back to where you began. And the trail can't--and doesn't--skirt the urbanization that rings the bay. One section of the trail, in fact, runs through residential east San Jose, a striking reminder of the challenge of bringing a sense of the wild into this long-populated valley.
Today, camping is almost nonexistent on the trail. Los Altos resident Dinesh Desai, who hiked the entire proposed 440-mile loop in 1999, says that he didn't sleep under the stars but instead stayed with volunteers along the route. At this point, backpacking the entire trail legally and without some sort of logistic help is simply not an option, he says. "This is never going to be anything like a day on the Pacific Crest Trail," he says. "This is more like an outdoor experience than a wilderness experience."
The 440-mile proposed trail is only halfway complete, with 229 miles of trail dedicated thus far. Bob Power, the interim executive director of the Bay Area Ridge Trail Council, which has worked for the last 15 years to complete the trail, says that the organization would like to have 300 miles of trail dedicated by 2005, and 400 miles by 2010. However, the hardest part lies ahead for the organization. Power explains that 99 percent of the existing trail is on public lands. This kind of trail building is relatively simple and cost-effective, more often a matter of shuffling some papers with the relevant agency and sprucing up some existing trail. The real challenge is building trail across much of the private land that rings the bay. And Power says that 60 to 70 percent of the remaining trail crosses over private lands.
Even if and when it is complete, he says the trail will have little camping on it and will ultimately be more a resource for day hikes for locals. "It provides a way for people to connect with nature in their own backyard. It provides a vision of park lands connecting communities, so someone in San Jose can look at the Ridge Trail and know that that path connects all the way to a trail in Yountville in Napa County."
---
Resources on the Bay Area Ridge Trail: "The Bay Area Ridge Trail: Ridgetop Adventures Above San Francisco Bay" by Jean Rushmore (1998, Wilderness Press, Berkeley, CA); www.ridgetrail.org.
---
---
Send a letter to the editor about this story .
---
[ Silicon Valley | Metroactive Home | Archives ]