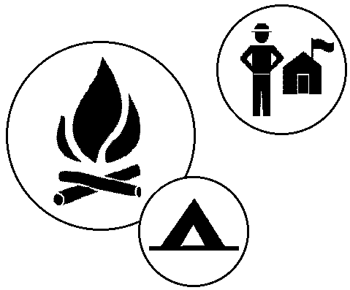 Kitschy Camping
Forget expensive gadgets--it's time to return to the good old days of campouts
By Traci Vogel
THE WHOLE THING may have gone too far. Sure, the gadgets are nice--that lovely 12-ounce GPS system that doubles as a baby monitor, the sleeping bag that moderates the insecticide levels in your blood while you snooze, the tent that pops up to accommodate a family of 43 at the touch of a button--but camping used to be simpler. More elegant. It used to be that making a fire was a fun challenge, not a task accomplished with the click of a blowtorch. It used to be that you had to forage for your food. Why, back then, a tent was something made out of animal skins.
OK, maybe no one wants to take things that far back, but around the country there is evidence of a return to good old-fashioned low-tech camping. Retro campers have realized that they don't really need a sleeping bag that allows them to survive temperatures equivalent to those of deep space. What they need is solid, long-lasting gear that doesn't cost a mosquito-bitten arm and a leg, but that evokes an atmosphere of family fun and outdoor plushness.
Many of these implements hearken back to the good old days of camping--the '50s. This was the decade that spawned the matching two-toned car and camper, the VW bus with the foldout table and chairs, and the inflatable beach float. Car and camper camping became an entire lifestyle--one that meant you could take your jello with you anywhere, in comfort.
Throughout the United States, there are entire organizations committed to this lifestyle. There are websites dedicated to old Airstreams, Teardrops, Spartans, pop-top VWs and Apaches, all lovingly maintained. But you don't have to own a behemoth camper to enjoy the retro-camping lifestyle. Plenty of equipment makers are bringing back the plush camping aesthetic, and antique stores abound with retro fixtures. Go forth, conquer and sleep in comfort beneath the stars.
General Purpose Medium Army Tent
No one knows camping like the Army, and that's why the best, most lavish camping items can be found at Army and Navy surplus stores. Take this 16-by-32-foot palace, for example. With 518 square feet of floor space, you need never worry about rolling over on your snoring great uncle's bunions again.
Your local surplus store or www.gr8gear.com. $700
Eddie Bauer Raised Insta-Bed
With this inflatable baby, not only are you lifted beyond the reach of creepy-crawlies, but you are guaranteed to survive the most persistent of incoming tides.
http://www.target.com/ Queen-size $99.99-$119.99
Coleman 54-quart Stainless Steel Cooler
Introduced in 1954, Coleman's classic cooler revolutionized the camper's diet. Now you could transport your 'slaw with no fear of food poisoning! Coleman has revived the look in anticipation of its 50-year anniversary.
www.coleman.com $105.99
Target's Deluxe Outdoor Fireplace
Take a roaring fire with you wherever you go, with Target's cast-iron fireplace. You may need a big truck to haul it, but your hot dogs will be crisp.
http://www.target.com/ $149.99
Sofina Retro Inflatable Love Seat
Don't just pull up a log to that fire--pull up a full-sized love seat in a 1970s style. Just don't pull it up too close.
http://www.inflatablechairs.com/3120.html. $9.95 plus shipping
Vintage PJ's & Aprons
Look your best when the sun rises, with one of a selection of PJs and aprons in vintage prints from Willow Glen's Park Place Collectibles. Park Place also features a haul of antique picnic accessories.
1318 Lincoln Ave, San Jose
408.294.9893
$20-$40
---
Send a letter to the editor about this story .
---
[ Silicon Valley | Metroactive Home | Archives ]