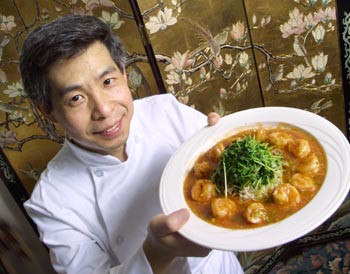 Photograph by George Sakkestad

Shanghaied in Mountain View

The flavors of Shanghai still provide flavor thrills on El Camino Real, thanks to the artistry of chef Renyi Liu

By Christina Waters

The scenario is completely unexpected. Decorator elegance and culinary artistry behind the unassuming facade of a mild-mannered Mountain View strip mall. But artistry it is, thanks to the Shanghai-trained expertise of chef Renyi Liu, who likes to put designer spin on his freshly prepared Asian classics. Carol and Rob joined me last week in the sleek white interior, lined with mirrors, spacious half-moon booths and opulent orchid displays. There is more than a hint of urban glamour in the setting, the full bar and the attentive service. The menu at Mei Long helpfully offers a list of suggested wine pairings, assuring patrons of fail-safe vintage accompaniment to their dining experience. In the five years since its debut, Mei Long has distinguished itself in the local marketplace. When it first opened, the menu showcased chef Liu's joint culinary ancestry, part Shanghai, part Culinary Institute of America. This evening, the menu and the meal itself showed a more complete commitment to China and less to the Continental seasonings and flourishes I'd remembered from other visits.

Accompanying our dinner were three of the suggested wines: a Moshin Vineyards Pinot Noir '98 ($6), a crisp Grgich Hills Fumé Blanc '98 ($6.50) and a rich Saintsbury Chardonnay '99 ($7). All stood up nicely to the appetizers of deliciously crisp and salty Shanghai Scampi ($10.95) and unusually shy crab cakes ($6.50). Arriving hot, still in their shells, the shrimp were practically addictive, slathered in a sweet scallion ginger sauce. The crab cakes, however, remained something of a mystery. Beautifully presented next to a pool of fruity reduction sauce, the cakes were ethereally light--like croquettes--barely filled with mashed potatoes, caramelized onion and, according to Rob, some bits of crab meat. The textures were intriguing. The flavor was absent.

Our entrees--seafoods all--showed more of the chef's attention to balanced spicing and generous portions. My order of crispy sea scallops ($12.95) was quite nice, basically a batter-fried creation glazed with a too-mild spicy garlic and vinegar sauce. More spice and less fried coating would have given the dish distinction. Rob's pan-roasted Chilean sea bass was the clear star of the meal, involving an alabaster shoal of soft, succulent sea bass, lightly tea-smoked and accompanied by a julienne of red peppers. Three steamed won tons filled with rice and mushrooms attended, pretty and flavor-challenged. It looked as beautiful as it tasted, and made up for the lackluster presentation of our third entree, a stuffed salmon creation ($14.95) from "Chef Liu's Award-winning Selections." Slender bits of excellent Chinese ham lined the interior of each rectangle of salmon fillet, which arrived alternating with spears of fresh asparagus in a delicious Shaoshing wine sauce. The seafood was overcooked, however, and the visually simplistic alternating rectangles of salmon did little to inspire our interest.

Desserts, however, provided us with considerable interest. One of the evening's two finales was a cantaloupe mousse, a sweet/tart showcase for the eerily chartreuse Midori melon liqueur. Like an avant-garde molded salad, the tiny cylinder of green and pale coral bands--honeydew and cantaloupe melon-flavored--was unlike anything we'd ever tasted. My taste buds weren't sure how they felt about this offbeat creation, but I kept tasting and tasting. Intense, yet unmistakably gelatinous, it was cool, satisfying and especially interesting juxtaposed with the crème anglaise pooled prettily around the borders of the plate. Another dessert of thin apple slices in pastry was nice, but would have been wonderful served warm, rather than overly chilled. Billie Holliday filled the ginger-perfumed dining room with very Western jazz, while Rob splurged on a cup of "special" coffee that arrived topped with whipped cream and laced with Grand Marnier, brandy and Bailey's Irish Cream. Not for the wimpy, we all agreed, enjoying the sensuous flavors of liqueur and coffee. With such generous portions, much of our entrees were packed to come home with us. Mei Long continues to hold its own as a bastion of freshly prepared Chinese cuisine.
---
Mei Long
Address: 867 E. El Camino Real, Mountain View
Phone: 650.961.4030
Hours: Lunch weekdays; dinner nightly
Chef: Renyi Liu
Price Range: Moderate
---
[ San Jose | Metroactive Central | Archives ]