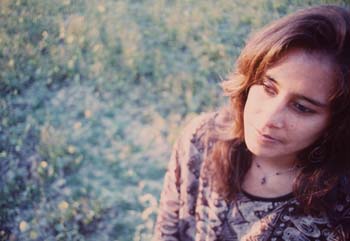 Photograph by Farika

The Jazz Ceiling

After decades of invisibility, women jazz instrumentalists are finding their place in one of music's most insular clubs. Some will take the spotlight at the San Jose Jazz Festival.

By Marianne Messina

SYLVIA CUENCA knows something her female predecessors have not: that she has a place in jazz. In fact, one evening in recent memory, the San Jose-raised jazz drummer and some friends went to New York's Village Vanguard and got lucky enough to catch trumpeter Clark Terry playing with his band. Cuenca didn't sit on her hands; she simply went up and asked if she could sit in. She thought the time was right to "get herself out there" and let people know what she could do. Apparently, she did. After she played, Terry took her phone number, and as Cuenca tells it, "He's been calling ever since."

Flash back to the middle of the 20th century, and an entirely different picture of women in jazz emerges. The many women instrumentalists who made great jazz on a par with their more-famous male counterparts in the '30s and '40s remain historically invisible; they did not often appear on recordings. In those days, and with some exceptions, the "women's band" was the only showcase available to talented women jazz musicians (think Sue and her Society Syncopaters, the fictional all-female 1920s band that provided anonymity to cross-dressing male musicians Jack Lemmon and Tony Curtis in Some Like it Hot.) These women's bands were considered as less than the real thing, even in the '60s and '70s, when the women in such "novelty acts" were encouraged to wear flamboyant costumes and set their sights on Vegas.

While women in jazz is not a new phenomenon, Cuenca's good reception stands in stark contrast to the treatment afforded female jazz musicians in even recent decades past.

Where the Gals Are: Women jazz artists will be featured at this year's San Jose Jazz Festival.
Best of the Fest: Metro writers offer some of their festival picks.

The issue of early gender prejudice is well-documented in Leslie Gourse's 1995 book, Madam Jazz: Contemporary Women Instrumentalists. But in the '80s, as the cultural climate changed, the atmosphere changed for women in the jazz world. Schools like Boston's Berklee School of Music took on record numbers of female students, and the bebopping city of New York became a mecca for young women instrumentalists like Cuenca. Among others making the pilgrimage: San Francisco sax player Virginia Mayhew and San Jose/Aptos trumpeter Rebecca Coupe Franks.
Since jazz is a field which, like law, relies heavily on precedent, it took the help of established male bandleaders to carve out inroads for women. These were broadminded men for whom the musical statement was paramount, like trombonist Al Grey and drummer Charli Persip, sax man Joe Henderson and trumpeter Clark Terry. The list of women whose early careers got a boost by playing with Terry is illustrious and includes saxophonist Mayhew, trumpeter Ingrid Jensen, sax player Dianne DeRosa, trumpeter Stacey Rowles, drummer Terri Lyne Carrington (who was 10 when she played with Terry) and, of course, Cuenca.
But if gaining some degree of acceptance from male players has been a tough battle, landing a spot on a major recording has been even tougher. Only in the '90s did this picture begin to change. Mayhew, playing with Al Grey, appeared on his 1992 album Fab. Cuenca appeared on one album of Ron McClure's and, later, one of Clark Terry's. Even more recently, women have begun to put out recordings as bandleaders, which affords creative input such as arranging, writing and choosing the artist lineup. Mayhew's 1995 release, Nini Green, for example, features several of Mayhew's own tunes and Ingrid Jensen on trumpet.
Perhaps the woman with the most successful recording history is Bay Area jazz guitarist Mimi Fox, whose first album as a bandleader, 1985's Against the Grain, was nominated for an "Outstanding Jazz Album" BAMMIE. Since then, Fox has turned out three more albums, landing a two-album deal with Monarch Records, the second of which, Kicks, hit No. 4 on the Gavin jazz chart and spilled over onto the Billboard jazz chart at No. 15. After 20 years of paying dues, Fox is "in the catbird seat," negotiating with interested labels and touring all over the world (in November, she'll travel to Japan). She attributes her success to constant touring, to educating and presenting clinics nationwide, and to a good agent.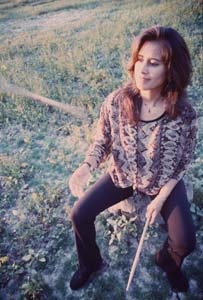 Photograph by Farika
Meanwhile, Sylvia Cuenca, who is demure in person but indomitable in music, put out her own CD, The Crossing, using songs by Joe Henderson, Chick Corea, Antonio Carlos Jobim, and Wayne Shorter, as well as one of her own pieces (the title track). Not only did she put the CD together and get all the tracks down in less than two recording days, but she is now marketing the CD independently. What kind of upstream drive moves someone to work outside the box in this way? Cuenca simply says, "I felt it was time to document where my playing was at."
That intense focus on the growth of her own creative vehicle, coupled with an incredible sense of timing, is perhaps Cuenca's secret formula. She attended San José City College in the mid-'80s and played under band director Dave Eshelman, a creative leader who brought in big artists to play with the City College band. One of those guest artists was the inspirational sax player Joe Henderson. After college, Cuenca visited a friend in New York to check out the scene, play some sessions and do a few gigs. When she returned to San Jose, she packed her bags and trekked three thousand miles eastward for good. "I got the fever--the New York fever," Cuenca recalls. "That energy of New York, it's very real."
She had not been in New York long by dues-paying standards when she saw Joe Henderson playing at the Village Vanguard and went up to him to say hi. Remembering her from his West Coast trip, he took her phone number, and about two weeks after that her friends were telling her, "Joe Henderson is looking for you." "I thought it was someone playing a joke on me," she says. But sure enough, the next day, Henderson called to say he was putting together an all-woman rhythm section for a touring band. And that tour turned out to be a "magical" year or so, playing all over Europe.
Lately, Cuenca's impeccable sense of timing has been telling her a second CD is in order. She's been working more heavily with Brazilian rhythms and wants to add a percussion section. Her trio recently made it past the first cut from among 75 bands hoping to become "Jazz Ambassadors," a project that tours worldwide under the U.S. State Department. But if you ask Cuenca her immediate goals, she will say things like "finding her voice," "gaining experience as a leader" and "getting and giving inspiration." Other women musicians concur. Trumpeter Ellen Seeling, leader of the Montclair Women's Big Band, has said she loves doing clinics and working in the schools to encourage up-and-coming musicians.
The need to inspire and be inspired seems to run through all jazz players, male or female. "Jazz is such a spontaneous art," Cuenca says. "It's a language. It should be a conversation; it's not about one person being in the spotlight."
And whether man or woman, most serious jazz players are trying to articulate and share themselves in this definitive language. Is there a difference between men and women players? Is it true that men are "stronger" players, or as Charli Persip maintained, that women are "more sensitive" players? Fox dismisses such generalizations. "If Jim Hall was a woman, people would say, 'He plays like a woman.' He is a delicate player. Whereas I'm a more aggressive player and people say, 'She sure doesn't play like a girl.' With jazz you're bringing your life experience to the table."
And to that extent, you will find the same differences between men and women jazz players as you'll find in life--many personalities, representing varied genes and backgrounds, trying to have a conversation that uplifts, a conversation about personal growth. Perhaps the recent rise of women in jazz is, more than anything, a testament to the increasing willingness of men and women to have those conversations across the gender divide.
---
You can see a rare sampling of these women at the San Jose Jazz Festival on the AT&T Media Services Women in Jazz Stage. On Saturday, Aug 12: Sylvia Cuenca performs at 2pm. On Sunday, Aug. 13: Ellen Seeling and the Montclair Women's Big Band at noon; Virginia Mayhew Band at 2pm; Mimi Fox at 4pm. Admission is free.

Also on Saturday, Aug. 12, 10-11:30am, Cuenca will take part in the jazz journalists panel discussion, "Think Globally--Swing Locally," at the Montgomery Theater, Market and San Carlos streets, San Jose. Free.
---
[ San Jose | Metroactive Central | Archives ]