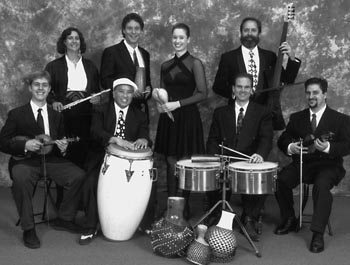 Cool Cats o' Nine: There's more than just salsa in the Santa Cruz-based Charange Nueve's subtle Cuban sound.

Keep on Danzon

Charanga Nueve's subtle rhythms have deep historical roots

By Rob Pratt

SALSA DANCERS certainly could take a turn on the dance floor to Charanga Nueve's subtle Cuban sound. But even though the band's laid-back grooves hint at the rhythms and melodic themes of modern salsa, Charanga Nueve bandleader and percussionist Michael Strunk explains that the group takes its inspiration from deeper roots.

"When people hear us, if they're really salsa dancers who have learned on the [contemporary American] salsa romantica sound, they think that we lack a lot of that horn-oriented power," Strunk says. "But when we play, we often get Cubans who come up to us and say, 'You guys are playing all this stuff I grew up with.'"

Charanga, Strunk explains, has a history that dates back to late-1700s French Haiti. Danza, performed mostly by European orchestral musicians playing the folk sounds of their adopted Caribbean homeland, brought together Western classical and African influences, eventually migrating to Cuba and evolving into the complex dance style of danzon. Charanga dates to a movement in danzon around the turn of the 20th century when bands dropped out the horn sections, relying on strings and flutes to carry the melody.

"It's an extensive and elaborate form, like a rondo," Strunk says. "The African influence comes in, and the way they interpret it is in a very open rhythmic section. Often they would go into a mambo, and it would open up, and the musicians and dancers would improvise."

Where the Gals Are: Women jazz artists will be featured at this year's San Jose Jazz Festival.
Best of the Fest: Metro writers offer some of their festival picks.

Now in its fourth year of performing, the Santa Cruz-based Charanga Nueve has developed an extensive repertoire covering charanga classics, some which edge toward mambo. But the foundation is still the very literate and structured dance form.
"Danzon was very strict, and the motions in the dance were very subtle," he adds. "And the bands were mostly made up of off-duty symphonic players."
---
Charanga Nueve performs at the San Jose Jazz Festival on Saturday, Aug. 12, at 5pm, on the Fiesta Latina de Jazz Stage. Admission is free. (888.SAN.JOSE)
---
[ San Jose | Metroactive Central | Archives ]