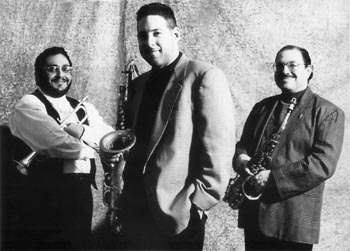 Horns of Plenty: The Bronx Horns' salsa-laced jazz invites listeners to 'Catch the Feeling.'

Bucking Bronx

The Bronx Horns heat up East Coast jazz with a blast of salsa and African beats

By Marianne Messina

BRONX HORNS' TRUMPETER RAY VEGA grew up in the Bronx in the '60s and '70s listening to both Santana and the Grateful Dead. It wasn't until he saw a live performance of the Machito Orchestra that his musical vision came into focus: a drive to situate New York Latin music within the idiom of American Jazz.

Since then, Vega has worked with everyone from Paul Simon to the man who popularized New York mambo, Tito Puente. The material on the Horns' debut CD, Catch the Feeling (1995), highlighted personalities: bandleader Mitch Frohman wrote the title track (echoing his many years with Puente) and made inventive forays into the basic form on rich tenor sax solos, and alto saxman Bobby Porcelli, whose credits include the Machito Orchestra, contributed "Get Back In," a mambo feel under some nice three-horn blending.

Their second album, Silver in the Bronx (1998), is built around arrangement rather than composition, and is more aligned with Ray Vega's early vision. As a tribute to post-bop innovator and pianist Horace Silver, this album, like Vega's solo project, Boperation (1999), seeks to take elements of salsa and "put them under the heading of Jazz."

Where the Gals Are: Women jazz artists will be featured at this year's San Jose Jazz Festival.
Best of the Fest: Metro writers offer some of their festival picks.

What the Horns do accomplish in reinventing Silver's tunes is to expand their influences--African rhythms in "Senor Blues," for example. Their sound is as smooth as ever, and consistently underneath the band's three-horned melodic core shines a stellar rhythm section, including bass prodigy Bernie Minoso, salsa-band veteran conguero Wilson "Chembo" Corneil, and a host of hot percussionists.
---
The Bronx Horns perform at the San Jose Jazz Festival on Saturday, Aug. 12, at 2pm, on the Southwest Airlines Main Stage in the Plaza de Cesar Chavez, Market and San Carlos streets, San Jose. Admission is free. (888.SAN.JOSE)
---
[ San Jose | Metroactive Central | Archives ]