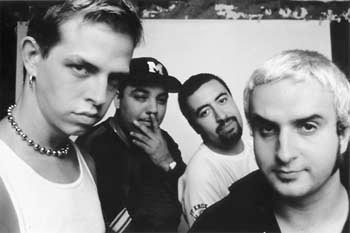 Da Bomb: Molotov bring their explosive Spanish rap-metal sound to this year's Watcha Tour.

Rap en Español

Hip-hop beats amp up the Latin grooves on this year's Watcha Tour

By Jim Aquino

IN THE LAST DECADE, Latino hip-hop has grown from a modest novelty (during the days of moderately successful, similar-sounding acts like Kid Frost and A Lighter Shade of Brown) to a stalwart genre represented by chart-topping artists of different styles. They range from the toke-driven, feverish sounds of South Central L.A.'s Cypress Hill to the laid-back South Bronx witticisms of the recently deceased double-platinum-seller Big Pun.

The eclecticism of Latino hip-hop continues to expand. In recent years, there have been a few acts who have taken hip-hop beyond its standard two-turntables-and-a-microphone format and fused it with other genres, but with more panache than, say, producer Sean "Puffy" Combs' attempt at a salsa number on Lil' Kim's latest album.

Two of these genre-bending acts are Ozomatli, the 11-piece "soulatino" collective from L.A., and the appropriately named Molotov, a volatile Mexican rap-metal quartet once banned in their homeland for their anti-authoritarian lyrics.

Both groups are part of this year's edition of the 18-city Watcha Tour, a collection of top Latin rock and hip-hop acts that will hit the Santa Clara County Fairgrounds this Sunday. (The other Watcha 2000 performers include the Colombian trip-hop group Aterciopelados, the Argentinian rock trio Enanitos Verdes, the metal band A.N.I.M.A.L., also from Argentina, and the Mexican alternative quartet Café Tacuba.)

Named after the Aztec god of dance, Ozomatli isn't solely a rap act--they have other genres on their mind too. But their most interesting moments involve hip-hop. Their 1998 self-titled debut CD features the talents of two solid artists: deep-voiced Chali 2na and skilled turntablist Cut Chemist. (Although 2na and Cut Chemist are still associated with Ozomatli, they stopped touring with the band in order to concentrate on their acclaimed six-member rap group, Jurassic 5, and have been replaced by, respectively, MC Kanetic Source and DJ Kid WIK.)

Elaborate bands that throw in rappers and turntablists usually don't work--remember the mediocre rhymes by those rappers that Prince added to his New Power Generation band in the early '90s after changing his tune about his hatred of hip-hop?--but Ozomatli is one of the few to successfully integrate hip-hop into a big-band setting.

On their CD and in past performances, "ghetto diplomat" 2na never sounds lost beneath the band's brassy blend of salsa, cumbia, ska and funk, and neither does Cut Chemist. 2na's political rhymes about racial and class inequalities (which are in English, while the sung lyrics are delivered en español by guitarist Raul Pacheco and trumpeter Asdru Sierra) bring substance to Ozomatli's music without killing the fun of their party grooves.

One of the most popular rock en español crossover acts in the United States, the Monterrey, Mexico-based Molotov also has a political agenda in its Spanglish lyrics that's firm without being intrusive and pedantic. On the band's apocalypse-themed second album, Apocalypshit (Universal Music Latino), surly singer/guitarist Tito Fuentes' targets include the corrupt Mexican government and wealthy, drug-abusing party boys.

What makes the brash Molotov stand out from most other politically minded performers is their loopy sense of humor, which they display in profane español wisecracks that will cause curious, unilingual English-speakers to race for their Berlitzes, belched-out choruses and oddball synthesizer effects (a vocoderized chorus in one song on Apocalypshit sounds like the Cylons from Battlestar Galactica after one too many tequilas).

The "watcha" in the tour's name is Spanglish for "check it out." If you're a hip-hop-head curious about the future of Latin rap or looking for sounds more eclectic and challenging than what tops the rap charts these days, Ozomatli and Molotov are worth checking out.
---
The Watcha Tour takes place on Sunday, Aug. 13, at 1pm at the Plaza el Mexicano at the Santa Clara County Fairgrounds, 344 Tully Rd, San Jose. Tickets are $25.50. (408.998.BASS)
---
[ San Jose | Metroactive Central | Archives ]