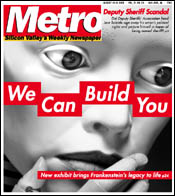 For the Week of
August 10-16, 2005
Cover Story: We Can Build You:
New exhibit brings Frankenstein's legacy to life.
News: Guilt by Association:
Did DSA head Jose Salcido sign away his union's political rights and perjure himself in hopes of being named sheriff?
The Fly: The San Francisco Chronicle has let its South Bay coverage go to pot.

Vote Here!
Cast your ballot in the 2005 Metro Silicon Valley Readers Poll.




Silicon Alleys: Meat Loaf Art.
Earth Moves: As the season progresses, flashes of the championship San Jose Earthquakes have started to come back.
Techsploits: Smart geeks keep getting harassed or bribed into silence by major corporations all the time.
Rev: Grateful He's Dead: If the car is an extension of you, maybe some Deadheads were catching on that the police could easily profile them based on wacky cars and stickers and make the assumption: possession of narcotics.



Sweet Story: A San Jose kid takes second prize at a sugar-cube art competition for his model of Mission San Jose.



The Cool World: Bill Murray, another 'Dead Man' walking, revisits the loves of his life in Jim Jarmusch's 'Broken Flowers.'
The Iceman Cometh: Director Michael Winterbottom brings you the suspect joys of British sex in '9 Songs.'
The Bear Whisperer: Werner Herzog analyzes a fellow filmmaker's ursine love and folly in 'Grizzly Man.'
'Raid' to Order: John Dahl's World War II rescue film, 'The Great Raid,' sinks into stilted solemnity.
The Beautiful South: 'Junebug' offers lovely acting in a slender slice-of-the-South indie.
Gagging: 'The Aristocrats' chronicles the infinite varieties of the world's most disgusting joke.



Future Shock: Jazz Beyond helps San Jose Jazz Festival embrace the eclectic this weekend.
Continental Drift: After the passing of bassist Brent Kimble, the instrumental band Continental soldiers on.
Rushing River of Music: The Cabrillo Festival of Contemporary Music hit both rapids and calms in its first two concerts.



Let's Get Lost: Rebecca Solnit strays the path in 'Field Guide.'
Bookbox: 'The Grail Bird' by Tim Gallagher, 'Descent' by Brad Matsen and 'Here Is Where We Meet' by John Berger.



French Connection: Fine dining at Le Papillon means stepping into another world.
Live Feed: Stett's State of the Scene Address.
5 Things to Love: Wine Bars.



Please don't forget to write! Metro welcomes letters. Like any great work of art, they should be originals — not copies of letters sent elsewhere. Include address and daytime phone (for verification purposes only). Letters may be edited for length and clarity or to correct factual inaccuracies known to us. Postal: Metro Letters, 550 S. First. St., San Jose, CA 95111. Fax: 408/298-0602. Email: letters@metronews.com. Emailers, please include name, city of residence and phone number. Letters printed will list email address unless otherwise specified. Letters to the editor are not currently published in the online version of this paper.