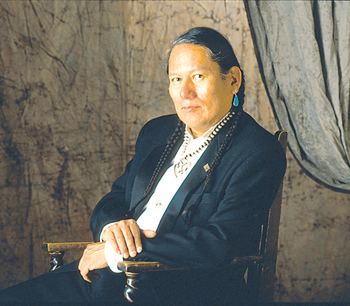 Through a Glass Lightly: R. Carlos Nakai added the sound of a Native American flute to Philip Glass' 'After Lewis and Clark' at the Cabrillo Festival.

Rushing River of Music

The Cabrillo Festival of Contemporary Music hit both rapids and calms in its first two concerts

By Scott MacClelland

THAT WHIRLING dervish who conducts the Cabrillo Festival orchestra can rarely be faulted for weak performances. But sometimes Marin Alsop comes up with program choices that one can only assume looked better on paper. Such was the case in her two opening concerts at Santa Cruz over the weekend.

Of the five works presented by the Cabrillo Festival of Contemporary Music, those that stand the best shot at repeat performances are James MacMillan's A Deep but Dazzling Darkness and Kevin Puts' River's Rush. Marijn Simons, the precociously talented 22-year-old violinist from Holland, soloed in the MacMillan, which he described beforehand as "grotesque, bizarre and gloomy." The 20-minute piece takes its name from a Henry Vaughan poem and its inspiration from the suffering of Job, the patron of music before Cecelia took over that job.

The theme that recurs throughout is the pugnacious 15th-century Burgundian refrain L'homme arme, which served composers for more than a century as cantus firmus in dozens of masses. MacMillan created chamber groupings within the orchestra that at times sounded remarkably like Messiaen. He used two keyboards, one tuned a quarter-tone sharp. He gave the soloist numerous ongoing glissandos that imparted a spookiness befitting the work's nocturnal haunts. During a steeplechase, wood blocks doubled the violin. Elsewhere could be heard a groaning contrabass clarinet and prerecorded incomprehensible mutterings of the composer himself. Karen Wagner articulated a large oboe concertante.

The Puts piece opened the second program and displayed the composer's increasing confidence with form and content. Now in his early 30s, this product of the Eastman School has succeeded in leaving indelible impressions with local premieres during the previous two Cabrillo festivals, all of them strongly thematic. A two-note motif pervades this 10-minute piece, as do warbling arpeggios served up in varied combinations and colors. Major/minor harmonies conspire toward a climactic finish.

Simons was both soloist and composer on opening night. He played the world premiere of his own second violin concerto, Secret Notes, and heard the U.S. premiere of his concerto for two pianos, a Latin-American postcard gallery titled A Ti Te Toca. The first of these suffered by comparison to the following MacMillan; its dense and complex scoring often blotted out the solo violin. His playing soared, and accordionist Eric Bradler growled, when not impeded by the busy orchestra. The best of A Ti Te Toca was "Sandunga," a Charles Ivesian hallucination featuring marimba and cor anglais intoning that dance tune. Nevertheless, Frank Zappa's three-minute Be-Bop Tango left a more convincing impression.

Philip Glass' Piano Concerto no. 2, After Lewis and Clark, featured pianist Paul Barnes. It established variety between its movements—but not its tonality—including some 5/4 vs. 4/4 in the solo during the first movement and R. Carlos Nakai's Native American flute in the second. Its finale was soaked in enervating G minor.

Steve Reich's Tehillim, psalms sung in Hebrew, featured the soprano/mezzo quartet Tapestry. For all its complexities, canonic and contrapuntal features among them, the piece does not effectively overcome its intoning sameness. The voices are used more as instruments and, in the almost unintelligible high female register, the text quickly loses any significance.
---
The Cabrillo Festival of Contemporary Music continues Friday at 8pm with a solo concert by jazz guitarist by Marc Ribot at Kuumbwa Jazz Center in Santa Cruz; on Saturday at 8pm with performances of works by John Mackey, Stewart Wallace and John Adams at the San Cruz Civic Auditorium; and on Sunday at 4 and 8pm with works by Dominick Argento, Aaron Jay Kernis and Magnus Lindberg at the Mission San Juan Bautista. Tickets are $20-$35. (See www.cabrillomusic.org for details.)
---
---
Send a letter to the editor about this story to letters@metronews.com.
---
[ Silicon Valley | Metroactive Home | Archives ]