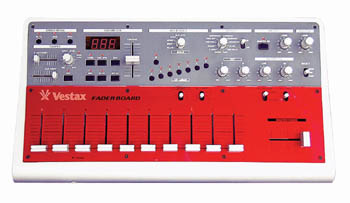 Show Me the Faderboard: One of the highlights of Jazz Beyond will be a demonstration of the Faderboard, an invention of Kosmic Renaissance's Shingo Annen.

Future Shock

Jazz Beyond helps San Jose Jazz Festival embrace the eclectic this weekend

By Geoff Wong

IN THE JAZZ mecca of New York, there is a perceived musical as well as social demarcation between uptown's grand traditions and the edgier atmosphere found farther south downtown. As of this year, the 16th Annual Comcast San Jose Jazz Festival (SJJF) will offer two full nights of the cutting edge as well as the straight-ahead, the blue and the caliente.

This year's musical festivities kick off Thursday night at the California Theatre. Young jazz vocal star Jane Monheit headlines the elegant (and sole ticketed) SJJF event that should recall evenings of the mid-20th-century pastime of enjoying big bands at ballrooms.

Over the next two nights (and following early mornings), the Jazz Beyond stage will make its debut at the San Jose Repertory Theatre. Curated by vocalist/composer/bandleader and San Jose Jazz Society membership manager and vocal clinician Michelle Amador, it features innovators in acoustic and hybrid acoustic-electronic jazz.

"It was originally going to be called the Jazz Tech Stage," reveals Amador, during a lunch interview at a bakery-cafe near the SJJS downtown offices. "But I thought that was a little bit limiting, because it's not about the technology, it's about the people. It's the jazz in the music that we're looking for—where is it going and who's taking it there?"

Amador opens the first night at 8pm with her electronically atmospheric True Believers, followed by pianist Jason Moran's innovative Bandstand group and the beyond-categorizing Kosmic Renaissance trio. On Saturday night, drummer Wally Schnalle's electroacoustic Suit ensemble sets it off at 8pm, followed by the rocking piano trio the Bad Plus and DJ Mark de Clive-Lowe.

"It was a convergence of a lot of different things," Amador says of the stage's birth. "Some Jazz Society folks had just seen Jason Moran and the Bad Plus at I.A.J.E. [the International Association of Jazz Educators convention in Long Beach this past January], she says. "And I had just come back from the RBMA [Red Bull Music Academy] program in Rome, where it was just a meeting of the minds of electronic music. I was the only vocalist in the program, and there weren't very many live musicians, but you could see this doorway of creative possibilities."

The San Jose Jazz Society had received its first grant from the James Irvine Foundation last year and wanted to fulfill the creative mandate that comes with that two-year source of funding. Bandstand and the Bad Plus were booked, but the question then became in what thematic context and even where to present both much-buzzed-about jazz groups.

The Jazz Society worked with Adobe, trying to figure out what the right sponsorship opportunity would be for them. The society expressed interest in something progressive and creative for people younger than the usual Jazz Festival demographic, she explains. "That's a cool thing, too, because the Jazz Society wants to have a different appeal to different groups, not just have it be a narrow focus. I think they've spoken with the different stages that they have, but here was this new thing."

As artistic director for the stage, Amador is a natural choice to musically christen Friday's event. Combining a jazz musician's sense of group interaction with a singer/songwriter's sense of craft and an electronic musician's penchant for texture (via DJ and guitar effects), she presents a thoroughly personal musical concept. "We tried it without effects, and it just didn't have that added element I wanted," she adds. "I've always been a fan of trip-hop, and I wanted that dreamscape thing without putting people to sleep."

Closing out Friday night is a midnight set with Kosmic Renaissance, a bleeding-edge trio that features Sameer Gupta on drums and tabla, former Broun Fellini David Boyce on saxophone and Shingo "Shing02" Annen on analog Arp Odyssey keyboard and Vestax Faderboard, which he developed with the Vestax and Korg companies.

The Faderboard, which makes its mainstream debut at the Jazz Beyond stage, consists of 10 upfaders (which run vertically) and a crossfader (which runs horizontally) that can control internal Korg or programmable tones, drum sound patches and samples. This keyboard-type instrument, which replaces the traditional white and black keys with a DJ or sound engineer's mixing-board controls, can also act as a master MIDI device for external sound sources.

"It's a very experimental group, with David playing sax with pedals and effects," says Annen, via cell phone. "Sameer goes in and out of beats that are not in traditional 4/4 time, like polyrhythmic Indian rhythms."

Improvisation is the basis for Kosmic Renaissance's interactions, as is unbridled exploration. "Of course, as far as the music, it's in the spirit of early experimental music like Sun Ra's," he says. "It definitely takes time for people to catch up—even if it takes decades.

"David and Sameer have taught me spiritual, as well as musical, lessons. The way they conduct themselves onstage, it's taught me a lot, coming from the DJ side," he remarks. "Each musician is featured in this setting."

While the True Believers, Kosmic Renaissance, Schnalle's Suit project and de Clive-Lowe might typically be presented in the literally underground setting of a basement or at a nightclub, Jazz Beyond's bandstand at the Rep provides a state-of-the-art theatrical showcase. The time slot (8pm to 1:30am), which doesn't overlap with many other stages (unlike the daytime SJJF activities), is more typical of Jazz Beyond–type artists.

"I think the nighttime thing is right for it. I'd like to see it extended to the day, should it go well," says Amador. "But I think it'll be perfect at night for that kind of new creativity."
---
Jazz Beyond happens Friday–Saturday (Aug. 12–13) at the San Jose Repertory Theatre. A free panel with Michelle Amador, Wally Schnalle, Mark de Clive-Lowe, Bembé Segué and David Boyce happens on Saturday at 11am on the patio of the Hotel Montgomery, 211 S. First St., San Jose. The San Jose Jazz Festival runs Aug. 10–14 in San Jose. Events begin Aug. 10 with the Frank Silva Quartet at 5:30pm performing before a screening of 'Moonstruck' at Cinema San Pedro. On Aug. 11, there is a gala concert with vocalist Jane Monheit at the California Theatre. The mainstage headliners on Saturday include Ernestine Anderson and Eddie Palmieri; on Sunday, Bobby Watson and Poncho Sanchez. See www.sanjosejazz.org for a full schedule.
---
---
Send a letter to the editor about this story to letters@metronews.com.
---
[ Silicon Valley | Metroactive Home | Archives ]