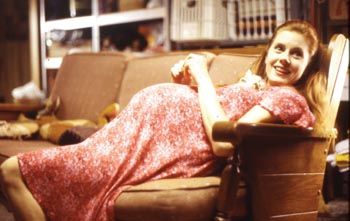 Photograph by Robert Kirk/Courtesy Sony Pictures

Couch Potato: Pregnant Ashley (Amy Adams) takes a load off in 'Junebug.'

The Beautiful South

'Junebug' offers lovely acting in a slender slice-of-the-South indie

By Richard von Busack

BECALMED BETWEEN Horton Foote and Beth Henley—between lauding Southern integrity and cackling at Southern lunacy—Angus MacLachlan's script for director Phil Morrison's Junebug scopes out small-town North Carolina. Amy Adams plays Ashley, a cute-as-a-junebug redheaded chatterbox. She is a pure, alarmingly affectionate soul—the sort without whom the South would become as hard and mean as the North. Adams won a Sundance acting award for the role—another triumph of love over common sense.

Ashley, eyes lit up like twin chandeliers, tongue revved like a motorcycle, is a pregnant gal who takes a shine to everyone. She's trying to perk up her seemingly doomed marriage. Her sulking husband (Benjamin McKenzie of The O.C.) is in no mood to be a father. Ashley's new bosom confidante is a woman she has just met. Madeleine, her new sister-in-law, is a cosmopolitan Chicagoan on a meet-the-parents visit. She is piggybacking the trip with negotiations to sign up a local folk painter that her outsider-artist gallery has discovered. As Madeleine, Embeth Davidtz is still as sad-faced as she was as in Schindler's List. She is posh-accented, yet touchy-feely. And she is oblivious to how badly her kissy-faced, hands-on approach goes down among a family of restrained churchgoers. The film uses her affectionateness as a way of visually matching her up with the bubbly Ashley. Still, it's unconvincing. Madeleine's seriously underwritten husband, George (Alessandro Nivola), is consumed with his business. Yet he fails to understand that Madeleine might have the same preoccupation. It all makes for a third-act clash of wills that can't really be believed.

Still, Scott Wilson makes a very fine Eugene, the solitary, monosyllabic dad who has retired to his basement workshop. His poker face fits Morrison's dry humor. For instance, the camera bobs down with Eugene when he crouches to stretch out his stiff back. The father has a delicate moment when he sings "Wildwood Flower" to himself, before snapping out of it to search for a mislaid tool: "If I was a screwdriver, where would I be?" Similarly fun is Frank Hoyt Taylor, who goes all Cold Comfort Farm on Junebug. His character is a backwoods, millennialist folk-art painter with urges to depict Nat Turner's rebellion, the battle of Antietam and gigantic spurting cocks.

Junebug is clearly derived from a playwright's work. The lines are so emphatic that they overcome the actors' ability to shade them. Morrison blurs the edges as best he can to make the writing more visual. Morrison has a thing for Godard, demonstrated in his blatant, block-lettered titles and in his pause to stare into the empty bedrooms of the family. On the upside, not everything in Junebug remains nailed down. Seemingly hard-bitten characters reveal surprisingly gentle sides. Seemingly decent characters blurt out something ugly. On the downside, it often seems like a break of character when they do. Junebug is weird and often vague, but it is always unpredictable.
---
Junebug (Unrated, 102 min.), directed by Phil Morrison, written by Angus MacLachlan, photographed by Peter Donahue and starring Amy Adams, Embeth Davidtz and Scott Wilson, opens Friday at selected theaters.
---
---
Send a letter to the editor about this story to letters@metronews.com.
---
[ Silicon Valley | Metroactive Home | Archives ]