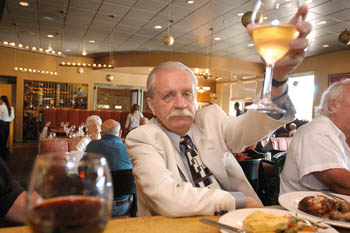 Photograph by Charlie Nucci

Gentlemen Prefer Blondes: Pat, already a regular at Viva, toasts the restaurant's convivial scene.

Viva to Life

East Los Gatos gets hip to a casual jazzy eatery

By Jim Harrington

JEFF HANSON is a veteran of the Bay Area dining scene. He got his feet wet as a dishwasher on the peninsula and ascended to "tropical locations manager" for the Chart House chain. Thirty years later, he knows how to please a Los Gatos crowd.

His secret? Big portions, moderate prices. Weekday happy hours. Live jazz.

And on a recent Wednesday night, when our party arrived at Hanson's brand-new venture, Viva, the crowd had clearly responded. The restaurant was near capacity, but we were quickly seated at a small white-linen-covered table in the side dining room.

When Cafe Primavera closed its Los Gatos location in mid-2003, Hanson felt that the opportunity presented was just too good to pass up. He called upon pals Mike Franges and Larry Noon, both of whom he had known since the '70s, and the three brought Viva to life. Viva, which opened next to Whole Foods in November, fills a big void in this area. While downtown has a plethora of dining choices, there's really not much going on in east Los Gatos. But there's clearly a market here for this type of place, an upscale-but-not-stuffy eatery that caters to families and singles alike.

The trio's first task was to brighten up the space and make it more suitable for a casual dining experience. The décor is very playful, highlighted by a large mural of the San Francisco skyline below a star-filled yellow sky. Paintings of jazz musicians adorn the walls, and the voices of Louis Prima, Billie Holiday and others can be heard floating through the well-partitioned main dining room. Viva also hosts live jazz on Friday and Saturday nights. Weekday happy hours bring thirsty locals to the long marble-topped bar for half-priced drinks and bar-menu bargains.

Befitting the concept of a neighborhood establishment, our attractive server was friendly and informative, making us feel very comfortable as she detailed the nightly specials. Viva's menu is eclectic and fairly lengthy. The focus is Italian, with pastas and pizzas hogging much of the room, but it also draws from California and Asian cuisines.

The starter list proved troublesome in a good way, as we argued over which of a dozen tempting treats to order. Narrowly passing on the spicy-fried rock shrimp ($9) and tempura green beans ($6), we came to an agreement with the Asian pork ribs ($11).

It was the right choice. The ribs were lean, meaty and tender--not quite to the fall-off-the-bone stage--and coated in a sweet glaze of miso, soy and ginger.

We also split a baby spinach salad ($10) that was as vibrant and colorful as the house décor. Crispy fresh clubs of spinach mingled with puckery cranberries, sugary pear slices, crunchy almond bits and juicy grapes halves in a surprisingly mild honey-Dijon dressing.

Beginning with the cuisine of the boot-shaped country, we tried the standard pepperoni pizza ($10), which came lightly sauced and a bit doughy. It's a fine pie, but nothing to toss out the Domino's coupons over.

A better choice, especially for heat seekers, is the fiery orecchiette bolognese ($14). But be warned, it's a dish that sneaks up on you. And by then it could be too late. We quickly lapped up the richly addictive mixture of ground sirloin, Italian sausage and garlic-spiced tomato sauce that covered the ear-shaped pasta. Moments later, we were calling for our server to refill our water glasses to help douse the flames.

The fresh-grilled ahi ($22) was a more soothing selection. Served medium rare, the delicious piece of tuna sported a summer tan on the outside and was sushi-soft below the service. The dish was complemented perfectly by a sweet-and-sour fruit salsa, crunchy snap peas and water chestnuts, and ginger-coconut rice.

Our meal ended in a sugar rush with house-made chocolate torte served with vanilla bean gelato from the nearby Dolce Spazio Cafe ($7).

For this critic, the best part about Viva is that I only live a few miles away. This is one neighbor I hope to visit frequently.
---
Viva
Address: 15970 Los Gatos Blvd., Los Gatos
Phone: 408.356.4902
Hours: 11:30am-9:30pm Mon-Thu, 11:30am-10:30pm Fri-Sat, 10:30am-9pm Sun
Cuisine: Italian, California
Price Range: $6-$25
---
---
Send a letter to the editor about this story to letters@metronews.com.
---
[ Silicon Valley | Metroactive Home | Archives ]