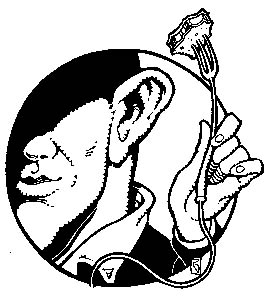 Live Feed

Spy vs. Spice

By Stett Holbrook

WELCOME to my new column. As Metro's food editor, I'll be writing about food and the South Bay restaurant scene, but I hope Live Feed will stretch the notion of what that means.

Live Feed will strive to keep you up to date on what's happening in the world of Silicon Valley dining, with updates on restaurant openings and closings, and hirings and firings. But I believe that food is about more than food. What ends up on your plate is more than vegetables and protein. It's politics. It's economics. It's history. It can be enlightened agriculture or profit-driven commodity production that fouls the environment. Food, good or bad, makes me hungry for good stories.

About me: Although it's been a while since I wielded a knife for a living, I spent almost as long behind restaurant stoves as a line cook as I have in front of computers as a journalist. Although I don't know if I'd have the chops to cut it at the sauté station anymore, I still have respect for those in the business of creating good food. Before coming to Metro, I worked as a freelance food and wine writer. I was the San Francisco Chronicle's Contra Costa County restaurant critic, and I've also written for the Los Angeles Times, the San Jose Mercury News, the Oakland Tribune, Saveur, Eating Well and a few other publications.

In the weeks and months to come, I hope you'll let me know what you find out there in local restaurants and markets. What have I missed? Have you discovered a great new cafe? How about an old faithful that has suddenly run dry? Know any mom and pop restaurants that serve something you can't find any place else? Did the general manager of your restaurant run away to Cabo with the accountant and a list of customer credit card numbers? Live Feed wants to know.

Eat and Greet

With Google's IPO on everyone's lips, the long night of the burst bubble may be over. One of the signs of an improving economy is restaurant openings. Leading the charge is Santana Row's flotilla of new restaurants. The South Bay is a big place and can't match the quality-restaurant density of San Francisco. Maybe that's why Santana Row's restaurants are doing so well. Left Bank Bistro, Pizza Antica, Strait's Café, Yankee Pier and many others are all in one place, and business is booming.

"Pizza Antica has been steadily building sales for the past 18 months," said owner Gordon Drysdale. "To start as miserably as Santana Row did has been a joy."

Meanwhile, following the opening of Michael Mina's Arcadia and Seven, the latest entry in high-profile openings in downtown San Jose is Paragon Restaurant & Grill, an "American brasserie" that opened July 8. A rising tide may not float all boats, but here's hoping it means there are new dining options.

Speaking of Paragon, after the July 29 Music in the Park White Album Live event downtown, the restaurant's newly opened patio was the scene for a party hosted by developers Barry Swenson and Mark Ritchie. Smooth-scalped Swenson came in drag as Yoko Ono, in keeping with the Beatles theme.
---

5 Places to Love PHO

PHO isn't just for breakfast anymore. At least not around here. In Vietnam, this wonderfully seasoned beef and rice noodle soup is a breakfast staple, but in America it's become a lunch and dinnertime favorite. Thin slices of rare beef float in a broth redolent of star anise, cinnamon, basil, fish stock and other slurpables. You're not expected to finish all the stock, but try to pronounce the soup correctly when ordering. It's not pronounced "foe" but more like "fuh." Below are several pho standouts.

Pho To Chau 853 Villa St., Mt. View, 650.961.8069
Pho #1 Noodle House 5025 Stevens Creek Blvd., Santa Clara, 408.249.1111
Pho Thanh Long 2450 El Camino Real, Santa Clara, 408.983.0888
Pho Bang 1705 Tully Rd., San Jose, 408.251.0896
Pho Bac So 1 1092 N. First St., San Jose, 408.297.1102
---
Send a letter to the editor about this story to letters@metronews.com.
---
[ Silicon Valley | Metroactive Home | Archives ]