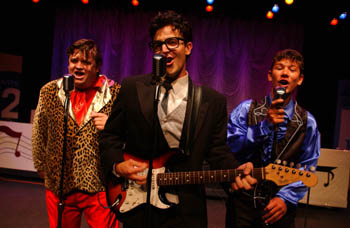 Photograph by Dave Lepori

That Was the Day: The Big Bopper (Scott Free), Buddy Holly (Travis Poelle) and Ritchie Valens (Manuel Romero) at the famed Winter Dance Concert.

Buddy Waters

San Jose Stage Company's new musical explores the life of geek-rocker Buddy Holly

By Richard von Busack

IN PHILIP NORMAN'S 1994 biography of Buddy Holly, Rave On, he describes how much Buddy Holly's music meant to him. In the monochromatic England Norman grew up in during the 1950s, the first preliminary gusts of rock bypassed the only official radio station, the BBC: "The popular music service, the Light Programme, had banned American rock & roll."

Instead, fans heard Holly's hits like "That'll Be the Day," "Oh, Boy" and "Peggy Sue" through Radio Luxembourg, a weak signal broadcast from about 300 miles away. "Endlessly retuning the radio's faint-lit dial, ears pressed close to its woven loudspeaker fabric, rock & roll fans were like a Resistance against hostile occupation." It's hard to think of music we now associate with Johnny Rockets with that kind of stealth--and harder still to understand how forbidden Holly must have seemed.

Who in the world, let alone in England, could be another Little Richard or Elvis anyway? But Buddy Holly's style was deceptively easy to adapt: three chords, a trebly, chiming Fender Stratocaster and funny glasses. Holly was the first genius of geek rock; his records were a trove of much-copied pop songs, augmented with brilliant homegrown effects achieved by the androgynous producer Norman Petty.

The British Invasion bands soaked in Holly till they were saturated. Author Norman does the roster: The Beatles named themselves after Holly's backup band, the Crickets; the Rolling Stones seriously funkified Holly's "Not Fade Away"; Graham Nash's outfit before Crosby, Stills, Nash and Young was the Hollies.

San Jose Stage Company's new production, Buddy: The Buddy Holly Story, starring Travis Poelle in the lead, opens this week. The musical is as much a tribute to that English love of Holly as to the musician and his times. The show ran for 12 years in London, where Holly never really died--despite evidence in a certain allegorical ballad by Don McLean.

The play restages not just the music but the short, hardworking life of Holly, fictionalized drastically in the popular 1978 movie with Gary Busey. Born in a liquor-free and strictly segregated part of West Texas, Holly was a true egalitarian: a white boy who played Harlem's Apollo theater and later married a Puerto Rican émigré. Scott Free co-stars at San Jose Stage as J.P. Richardson, the radio DJ known as the Big Bopper, and Manuel Romero plays Ritchie Valens. At 14, Manuel Romero is three years younger than the part he's playing, but the San Jose-based performer is already an accomplished singer. Romero has not just a website (manuel-romero.com) but a self-titled album on the Warner Music Latina label.

Romero was tipped off to the San Jose Stage audition by a neighbor. Unsurprisingly, a young man of his day and age was not really familiar with Holly's music when he started rehearsals. "'La Bamba,' though, is a famous song, that my whole family knew. It's still played in Mexico," he says.

This will be Romero's first time acting in the United States, though he's done plays, TV commercials and a movie in Mexico. What attracts him about the part of Valens is "his kind of personal connection with the crowd. It was very original--his movements and his style of music. Even though he didn't speak Spanish, he was trying to bring his Mexican roots out."

The most difficult part of the role is trying to master Valens' style of dancing: "I dance a lot in the show, but it's a really different kind of dance than is done today, this rock & roll." He adds, "I'm kind of like Ritchie Valens; I want to bring Mexican music out to the world." If Romero can do it, he'll not only be following Valens' lead, but Holly's as well, in blowing a little fresh air into the world.
---
Buddy: The Buddy Holly Story previews Aug. 13-15 at 8pm, opens Aug. 16 at 8pm, with regular shows Wednesday-Saturday at 8pm and Sunday at 2pm at The Stage, 490 S. First St., San Jose. Tickets are $28-$38. (408.283.7142)
---
---
Send a letter to the editor about this story to letters@metronews.com.
---
[ Silicon Valley | Metroactive Home | Archives ]