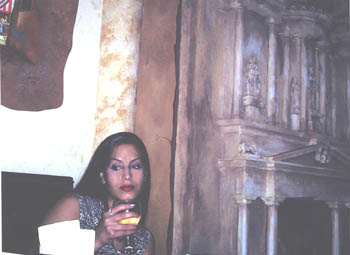 Photograph by Chris Revell

Cuisine Scene: A multisensory experience immerses the diner at Kan Zeman.

Pita Paradise

Kan Zeman's appealing Mediterranean dining mecca offers a sensuous menu and warm welcome to hummus-happy Palo Alto

By Christina Waters

LAST Thursday night, we found ourselves in the middle of it all. In a space on Palo Alto's University Avenue formerly occupied by a coffeehouse, Kan Zeman has managed to create a sexy niche of ancient Lebanese, Greek and Turkish cuisine. Kan Zeman has it all: wonderful food freshly minted by a crafty kitchen, life-enhancing ambience and a sense of the festive that just can't be faked.

We soon discovered that the delightful ethnic eatery not only boasts the finest falafel this side of Luxor, but it goes the distance in seducing Western taste buds with the flavors of the very Old World. A charismatic Lebanese chardonnay from the fabled Ksara estate ($5) gave me a whole new vintage experience--fruity, yet dry, with a hint of something astringent like rosemary.

Tara was fine with her comparatively tame Clos du Bois chard (also $5), and both white wines were great with our mazzat sampler platter. Pita dipped into olive oil started us off on a high-wattage graze through colorful plates of garlicky hummus earthy falafels, dolmas drenched in lemon, a minty tabouli salad and splendid marinated tomatoes. Stupendous ripe tomatoes adorned almost every plate.

Obviously, the chef, who could be seen at the far end of the room, loves overseeing the restaurant spread out before him. His pride and skill gave energy to each dish, including a generous fatoush salad that had us on our knees: a slightly sweet mint and balsamic vinaigrette drenched a mound of crisp romaine, studded with scallions, crimson tomatoes and crisp triangles of baked pita. When the pita soaks up the sauce, the magic begins. Tara said it all--this was destination fatoush, a meal unto itself.

After that, there was no stopping us, especially since we were at Kan Zeman on one of the best nights. Belly-dancing begins at 8pm Thursdays through Saturdays.

The swift staff brought and retrieved plates with perfect timing, and just as my appetite was revved to the max, on came our main dishes of chicken shawerma (the ultimate wrap, $7.99) and a wonderful Lebanese bazaar-on-a-plate called magluba ($12.99). Each dish, plus accompanying salad and spiced yogurt garnish, arrived dusted with the ubiquitous garnet-colored sumac, that musky, lemony spice so crucial to the cookery of the Fertile Crescent.

The gigantic wrap of lavosh stuffed with creamy tahini dressing, cucumbers, tomatoes and tons of shredded chicken was as good as it sounds. We both tore into it, watched over by a series of playful murals portraying village life and historic temples of the Middle East. But the magluba, featuring half a spit-roasted Cornish game hen, a mound of rice studded with pine nuts, almonds, sumac, eggplant and cauliflower (unbelievable!), plus a side of sautéed sugar peas, green beans and eggplant in an intense, dill-laced tomato sauce, was one of the most satisfying entrees I've ever tasted. Dusted with the haunting sumac spice, the lavish pile of voluptuous scents and flavors was joined by a side of tart yogurt and cucumbers.

By the last bite--half the dish came home with me--the hypnotic music grew louder, and a fabulous apparition in gold jewelry and green silk began undulating down the main aisle of Kan Zeman. Finger symbols tinkling exotically, Sefarah--big, blonde and beautiful--shimmied and swirled skillfully through the room. People outside stopped to gawk.

By now, a very smooth young maitre d' was on duty, presiding over the making of strong Turkish coffee, perfumed by cardamom, which we sipped along with baklava (Tara pronounced it "definitive") and another treat called burma, involving shredded wheat soaked in honey and filled with whole pistachios ($2.50 each). Powered by incomparable vibes, caffeine and authentic flavors, we two spice girls floated out onto University Avenue.
---
Kan Zeman
Address: 274 University Ave., Palo Alto
Phone: 650.328.5245
Hours: 7am-10pm Mon-Sat, 7am-9pm Sun
Cuisine: Authentic Middle East specialties; shish kebab, baba ghanouj, falafel, shawerma, hummus
Price: Inexpensive
---
---
Send a letter to the editor about this story to letters@metronews.com.
---
[ Silicon Valley | Metroactive Home | Archives ]