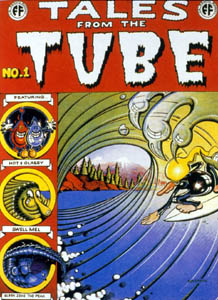 Artwork by Rick Griffin

Tales From the Tube: Rick Griffin's 1973 comic book cover crosses underground comic art with surf culture.

Curl Crazy

The sport of Hawaiian kings of Cali cutups rides into the San Jose Museum of Art

By Michael S. Gant

ONE OF THE STRIKING additions in Francis Coppola's Apocalypse Now Redux was some restored footage from the famous "Charlie don't surf" sequence. Appalled at Col. Kilgore's brash disregard for the safety of his men, Capt. Willard steals the colonel's prize surfboard and heads upriver into Cambodia as Kilgore follows overhead in a helicopter, demanding the board's return. Kilgore's insistence that American soldiers could surf any break--even one contested by the Viet Cong--symbolized the peculiar nexus of American cultural and military imperialism. In a weird way, we wanted to make the world safe for leisure-time activities.

The sport of surfing was first appropriated from the Hawaiians and other Pacific islanders by explorers and colonizers. Indeed, the royal sport of gliding across wave crests on pieces of shaped koa wood was pretty much wiped out by outsiders. As anthropologist Ben Finney and Santa Cruz author James D. Houston write in their book Surfing: A History of the Ancient Hawaiian Sport, "From the arrival of the first Europeans in 1778 to the American takeover of the islands in 1898, virtually all native sports and pastimes declined to the point of disappearance as Hawaiians lost their social, economic, and political independence and their numbers were steadily reduced by disease." Then came the developers and commercial dreamers, and surfing was reborn as a tourist lure.

Some of the complexities of the Endless Summer pastime are fleshed out in "Surf Culture: The Art of Surfing," a new show at the San Jose Museum of Art. Encompassing everything from contemporary paintings inspired by surfing motifs to photography (including a Mike Salisbury 1976 C print of Coppola during the making of Apocalypse Now) to a large array of vintage surfboards, the show serves as a sociological meditation as much as it does an art exhibit.

"Surf Culture" commences with a knockout piece by Kevin Ancells. His Aloha Oe installation consists of 21 life-size cast resin hula girls, arranged in a triangular formation like so many bowling pins. They all wear the traditional grass skirt and rotate from the hips (thanks to small motors concealed in their bellies), but each one is differentiated by tattoos and facial expression. A woman in front bears a familiar token of island culture: a toy ukelele. As you move back through the ranks, notice that the women start to sport automatic weapons and grenades, the better to repel than to welcome the conquerors in cruise ships.

Equally arresting, if not quite as pointed, is Sandow Birk's 1990 oil on canvas North Swell (Washington Crossing the Delaware), which poses a pod of heroic-looking surfers between waves in an echo of the famed patriotic painting. Positing surfing as a subset of "marine painting," Birk beautifully replicates the dramatic narrative style of the 19th century and mocks one of our founding myths. Did George chop down that cherry tree to prove that Tories don't surf?
---
Surf Culture: The Art of Surfing runs Aug. 16-Nov. 2 at the San Jose Museum of Art, 110 S. Market St., San Jose. The opening party, Aug. 16, 7-10pm, features performances by the Concaves and the Ka Ua Tuahine Polynesian Dance troupe. Free for members/$12. A Surf Shindig on Aug. 17, 11am-5pm, outside the museum in the Circle of Palms, offers kids' events, surf music, hula lessons, a display of Woodies and surfboard shaping demonstrations. Free. (408.294.2787)
---
---
Send a letter to the editor about this story to letters@metronews.com.
---
[ Silicon Valley | Metroactive Home | Archives ]