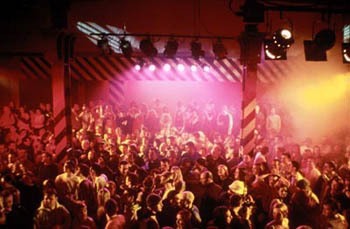 Rave New World: The nascent rave scene at the Hacienda Club of Manchester comes alive in '24 Hour Party People.'

Manchester Man

'24 Hour Party People' chronicles--sort of--the rise and fall of Factory Records, home of Joy Division

By Richard von Busack

FICTIONALIZED--and proud of it!--24 Hour Party People is a goofy, energetic docu-something about the history of Factory Records, an independent co-op label based in Manchester, England's second city. The label financed the Hacienda Club, a Manchester disco of the late 1980s that was the cradle of rave culture. The film's star is English TV comedian Steve Coogan (Dr. Terrible's House of Horrible), who plays the film's untrustworthy narrator, Tony Wilson, Factory's founder.

Wilson began as an ambitious prat of a TV human-interest newscaster, who can only keep his self-respect by letting people know he's too good for his job (though, of course, that just makes him more risible). Wilson's life is changed when he sees a scantily attended Sex Pistols show in Manchester on June 4, 1976. The lure of rock & roll ends Wilson's marriage to Lindsay (Shirley Henderson), but in the meantime the promoter helps manage the brilliant, doomed band Joy Division.

Years later, Wilson enjoys a more popular cash cow with the band Happy Mondays, whose work is summed up in a quick joke: coke-snorting ruins a band's talent, but since the members of Happy Mondays had no talent, they could do as many drugs as they liked. Having helped promote some genuine art through Joy Division, Wilson parties down with the loutish Happy Mondays. And in allegiance to his artistic principles, he does his part to run his organization into the ground.

The surprise is that this peppery, speedy comedy/drama is the work of Michael Winterbottom, who, true to his name, has been responsible for many cold-arsed independent films. In a fit of pique over Winterbottom's recent bottomless cup of misery, Wonderland, one critic (me) described him as "England's Most Depressing Director™." But 24 Hour Party People is crammed with playfulness. Robby Müller's low-tech camera brings out the lambency of piss-pool nightclubs and tumor-colored skies. Still, during a nighttime drive when the ensemble is listening to a tape of the rough mix of Joy Division's immortal "She's Lost Control," it is unbearable to see so little of the Manchester cityscape. Winterbottom's looser and freer here than ever, but he doesn't have the rhythms of a rock filmmaker; he has more luck in the rave/electronic scenes--there are more beats per measure for him to cut against.

Since this may be the only movie ever about Joy Division, it's too bad there wasn't a cagey way to suggest some of lead singer Ian Curtis' emotional problems. Apparently, Curtis (Sean Harris) was in anguish over a bad love triangle. Even so, 24 Hour Party People is so dazzling and fun that it's only when you're out of the theater that you realize how essentially small-time Wilson's goals were: he really just wanted to put Manchester on the map. The film tricks you into liking a man who's basically a civic booster. Fortunately, Coogan's Wilson has the real integrity of person who's honest about being shallow. And it's satisfying to see how little piety there is in this delightful musical--even though it features one of rock's genuine martyrs.
---
24 Hour Party People (R; 117 min.), directed by Michael Winterbottom, written by Frank Cottrell Boyce, photographed by Robby Müller and starring Steve Coogan, opens Friday at Camera One in San Jose and the Century Cinema 16 in Mountain View.
---
---
Send a letter to the editor about this story .
---
[ Silicon Valley | Metroactive Home | Archives ]