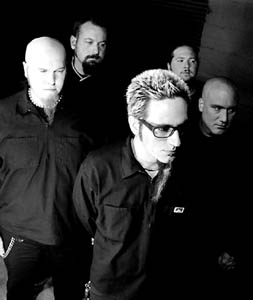 Krenshaw gets wild at the Pound.

Wild Nights

Nadine Condon brings some of the hottest bands in the region together for four days of shows

By Sarah Quelland

SOMETIMES IT SEEMS like San Francisco gets all the good stuff. Though we can certainly celebrate the four-day Stop, Drop and Rock festival at the Gaslighter Theater this week (see cover story), San Jose's taken quite a beating recently with the closing of the Cactus Club and the cancellation of the SoFA Street Fair. Bands are struggling to find places to play. Meanwhile, up in the city, Nadine's Wild Weekend, a multigenre bonanza of NorCal's finest, infiltrates 15 San Francisco clubs for four nights of music by more than 130 bands--including a number of our own.

Nadine Condon, San Francisco's Godmother of Rock and music-industry maven, founded this event back in 1998 and received tremendous response. With her experienced hand at the helm, it's steadily gained steam. This year's event kicks off next Thursday (Aug. 22) with a huge opening bash at the Fillmore featuring funky alt-rock Bay Area group Luce; eclectic, provocative and whimsical singer/songwriter Noe Venable; and complementary bohemian singer/songwriter essence. The festival continues Friday-Sunday (Aug. 23-25) at clubs scattered throughout San Francisco. With so many options, a festival of this size can become a little overwhelming. We're here to help narrow down the choices and highlight some of our favorites.

Heavy South Bay bands are featured prominently at the Pound on Saturday (Aug. 24), with Rivals, Krenshaw, Ones and Zeros and Drist, plus Sacramento's Shortie and the East Bay's Scorched-Earth Policy and Technocracy. Krenshaw's even chartering its very own "Beelze-bus" to the venue (visit www.krenshaw.com for details). It's a tough call though, because that very same night Remoter emerges from a lengthy hibernation to play Tongue and Groove with Mister Q, Nero and Pedalsped, plus two of festival founder Condon's own top picks: Autopunch and Wake. There's also a big all-ages show Saturday afternoon (3-7pm) at the Red Devil Lounge with Dexter Danger, Locale AM, Karmina and two more of Condon's favorites: the Locals and Eleventeen.

Other particularly promising bands include the campy retro space cadets the Phenomenauts (Friday at the Covered Wagon with Breast, Blue Beard, Slender, Tenfold and Domeshots); incisive party-pop outfit the Uninvited (Saturday at Hotel Utah with Larisa Bryski, Cargo, Luminar and Joe American); and one of Gary Avila's newest projects, Sacramento pop-rock group the Slow Lorries (Saturday at Studio Z with Tiny, the Please, Tokyo Marine Fire, the Sick and the Reason).

Condon also singled out the Fingers and Head Down (Friday at Studio Z with Victory Gin, Single, Make Me Famous and End); the Brodie Stewart Band (Friday at the Voodoo Lounge with West By God, Grain USA, Laurence Iconoclast, One Light Out and Did I Stutter); and 5AM (Friday at Tongue and Groove with Alien Cowboys, Slow Poisoners, Big Breakfast, Dora Flood and Flying Blind) as standouts in an already standout lineup of shows. Who knows what hidden treasures are waiting to be discovered? Past performers include Stroke 9, which, coincidentally, headlines this week's Metro's Music in the Park (Aug. 15, 5-8:15pm at Plaza de Cesar Chavez in downtown San Jose) with Picnic. Stroke 9 and bands like Papa Roach and Smash Mouth, plus labels like DreamWorks Records, are just some of the sponsors of Condon's event. Visit www.nadineswildweekend.com for a rundown of everything.

HOT TOPIC: Panic! presents a tribute to the Smiths and Morrissey Friday (Aug. 16) in the Backroom at the Icon Nightclub. Angsty fans of Morrissey have only a month's wait before the melancholy maestro performs live at the Greek Theater in Berkeley (Sept. 14). ... Meanwhile, Plant 51's new Attack of the '80s starts up Wednesday (Aug. 21) with DJs King Raffi and Adrian spinning classic '80s and New Wave music for the masses.

PLAN AHEAD: Clearing Autumn Skies, Sky Is a Wall and others, Aug. 17 at Luna's Mufflers at 1623 S. Tenth St., San Jose; Slow Gherkin, the Velvet Teen, the Huxtables, the Plus Ones and Dan Potthast, Aug. 17 at the Santa Cruz Vets Hall.
---
Send a letter to the editor about this story .
---
[ Silicon Valley | Metroactive Home | Archives ]