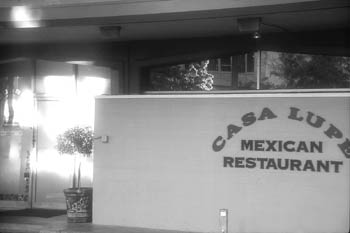 Photograph by Troy Bayless

Wall of Fame: Inside Casa Lupe you'll find good food.

Basic Instincts

While it doesn't break new ground, Casa Lupe does offer a solid take on Mexican traditionals

By Joseph Izzo Jr.

CASA LUPE HARKS back to a time when Mexican restaurants were family operated. I walked inside the place last Sunday and immediately felt the warm arms of home cooking, recalling the bygone days of a bowl of menudo at El Rebozo on First Street. Spicy stews full of pork, carne and chile are always on the stove at Casa Lupe. Top-shelf tequila and cold Mexican beer are abundantly provided.

Some might say this place is behind the times. Perhaps this is true. Where are the mesquite-grilled meats and the mango margaritas with cumin-infused chicken served on blue corn cakes with cilantro-habañero salsa? At Casa Lupe, the food is wrought from everyday recipes that bring family and friends to a large and fragrant table. For about four years now, Lupe has lived in a small storefront along newly refurbished Castro Street in Mountain View. A peaceful, unrushed nature defines this Mexican restaurant. It's a place where you can get all the slack you need to enjoy a meal thoroughly, from beginning to end.

The single dining room is painted in earthy rainbow colors and adorned with curios that evoke an atmosphere that's a cross between South of the Border and Mexican-American cosmopolitan. Tables are clean and neatly appointed. From the picture windows, the view of Castro Street and its motley array of passing pedestrians entertains the eye like a Broadway play.

For diners seeking culinary adventure, Casa Lupe is just a preliminary stop-off. Nothing new or inventive will be found on this menu. "To-the-point" best describes the cooking style. Flavors emerge from the ingredients and their natural juices and are not forced into submission by heavy seasoning or thickening agents. Nothing we sampled was buried from view under slabs of cheese or sour cream or other popular gelatinous substances. Cheese was used over refried beans, but with a light-handed flourish.

Though recipes do not break new ground, they are prepared with distinction. The Chile Verde ($12.50), for example, came not in a thick gravy like so many I've tasted, but with chunks of lean pork simmered fresh in a liquid sauce, based on green chile and infused with oregano. It was almost like a pork soup seasoned with fresh garden herbs. I found myself alternating between fork and spoon.

Flautas were rolled and deep-fried like nearly all of the recipes I've sampled. These, however, were light, not greasy, and so crispy and fragrant that each bite crashed like waves against the teeth. We dipped them into sides of fresh chunky salsa, and guacamole mashed without seasonings into a natural, creamy pulp.

We thoroughly enjoyed Casa Lupe's rendering of Chicken Mole ($13.95), a recipe many attempt, but few master. The chicken--perfectly fresh and clean-tasting--was braised tender and juicy in an ebony sauce, so dark the white of the bird stood out like glow paint. Chocolate and chile achieved the ideal marriage of sweet and spicy.

Enchiladas Suizas ($10.95) provided another example of simple cooking technique. We all remarked how clean tasting the chicken was, how unobtrusive the creamy vegetable sauce, how light the textures. Sauce was delicately applied.

Our least favorite dish was the Steak Fajitas ($12.95). They arrived hot and sizzling, but they were oily and bland.

Because the dining room is relatively small, few servers are on station at any given time. Our waitress handled the whole dining room, serving plates and drinks with efficiency and speed. All dishes arrived hot--some still bubbling--from the kitchen. Though she was busy, she still found time to answer our questions. She waxed eloquent about the short history of Casa Lupe, as my companions strolled around the small place, admiring the Diego Rivera prints.

Casa Lupe won't win the blue ribbon at the culinary fair. The menu offers nothing new or extraordinary. It is, however, basic Mexican-American food that's both light and natural tasting.
---
Casa Lupe
Address: 459 Castro Ave., Mountain View
Phone: 650.965.2944
Hours: Lunch 11:30am-2:30pm Mon-Sat; dinner 5-10pm Mon-Sat, 4-9pm Sun
Cuisine: Mexican
Price Range: $4.95-$13.95
---
---
Send a letter to the editor about this story .
---
[ Silicon Valley | Metroactive Home | Archives ]