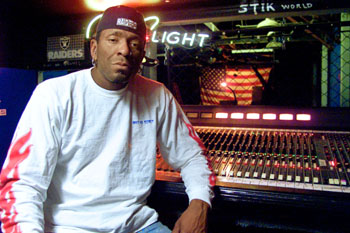 Rebel With a Cause Stikmon has big plans for a Burbank International Youth Center for the Performing Arts.

Stik Figure

With memories of music rescuing his own troubled childhood, Cactus' Stikmon works to save kids through music

By Sarah Quelland

WHEN THE Cactus Club closed earlier this summer, kids from the South First Street area (SoFA) went in search of a new hangout. Of course, not for the first time. The teen generation and the early-20s fans of local live music have been on the run before. And former Cactus Club co-owner Stikmon knows the story all too well as it has played out on city and suburban streets: Find club, build club, grow fans, anger local landlords/residents, get the boot. But he has a plan.

Currently, he is working with the city of San Jose to get a permanent gig in place: to establish the Burbank International Youth Center for the Performing Arts at the old Burbank Theater. Here he hopes to develop an international exchange program for the arts that would bring young dance troupes, theater groups, poets, musicians and other types of young artists from all over the world to perform and exhibit their work right here in the South Bay. With a target demographic of 18-35, his goal is to create a safe, community-oriented cultural space that recognizes and celebrates the talent and achievement of younger artists of all types.

He says parent groups who have gotten wind of his plans have contacted their local city, state and federal government officials to encourage them to support his business plan. If given the green light, the Burbank would be a real boon to the area providing a reliable performance space for all young artists.

To further that cause, Stik's been busy meeting with anyone and everyone who can help see that the Burbank International Youth Center for the Performing Arts becomes a reality.

Growing up in San Jose, Stik describes his childhood as one of the worst that can be imagined. Now a carpenter by trade, he says he's worked every day since he was a boy. But, when he was six, his uncle, who was a musician, gave him a snare drum. "That gift changed my whole perspective on things."

As he learned to play, he found his voice through music and took refuge in the music of others. "Whatever's happened on me, I relied on music to get me through. My whole life was destined to be involved in music in some way or another."

This tattooed and pierced motorcycle-riding muscle man may be an unlikely advocate of the arts, but he commands respect and his conviction is persuasive. He understands the need for safe spaces for young people to be creative. "Art, in general, is an expression of something deeper than anything surface-y," he says. "It's important to me to have something like this for other young [people] to come express [themselves].

Stik says he's fighting to ensure that all those creative young souls out there with something to say--all those metal and indie kids who perform at the Outhouse, Mitchell Park, the Basement, the Chemical Free Zone, the Gallery and the Gaslighters--get to work it out right here in the South Bay.

"What do I know? Maybe this kid is going through the same [stuff] just like I did. Maybe he's got his snare drum and he wants to play it."
---
Send a letter to the editor about this story .
---
[ Silicon Valley | Metroactive Home | Archives ]