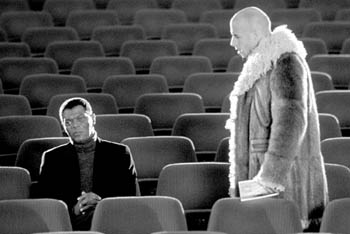 Ewe Must Remember This: Superagent Vin Diesel warms his pecs with a sheep-fur jacket in 'XXX'; Samuel L. Jacks0n couldn't care less.

Brand X

Middle-aged filmmakers will do anything to slake the thrill thirst of the younger demographic in 'XXX'

By Richard von Busack

FORTUNATELY, XXX isn't as incredibly abrasive as it looks from the trailers. Like its namesake, Generation X, after some initial flash, the film settles down into a rut carved by the years. Watching Vin Diesel's secret agent racing down a Czech road, trying to apprehend "a solar-powered submarine" loaded with biowarfare weapons, chances are the older viewer won't think, "James Bond, you've just been spanked!" but, rather, "Matt Helm has risen from the grave."

The agent's real name is Xander Cage, a guerrilla-sports star reluctantly pressed into service (like Michael Caine's Harry Palmer) as an alternative to jail. Xander's latest prank was launching a senator's sports car off a bridge, a stunt fractured with artsy digital camera work and by speechifying against gangster rap and violent video games. "Hey, video games are the only education we got!" Xander declares, reminding you that this is a Sony film (a more obvious plug for PlayStation comes later).

After capture, our hero's control is Samuel L. Jackson, whose face is half-covered with melted chocolate (one eye is supposed to be dead from some kind of flaming accident, but eyes both appear glazed). Xander is sent to Prague, where the film begins in earnest. As agent XXX, he infiltrates Anarchy 99, a group of rogue ex-Russian army officers, led by Yorgi (Marton Csokas, with a paroxysm-inducing Russian accent). Meanwhile, our beefy hero is attracted to Yorgi's mistress (a debauched-looking Asia Argento, with hungover eyes). Turns out that the anarchists are only in a car-theft ring for the money; what they're really up to is random bioterrorism.

Diesel's hoarse voice matches the gargle-metal on the soundtrack. He's an amusingly self-satisfied ox, and really, it's as if they cast Ernest Borgnine as an international man of mystery. Clothes make the man; his are prison-issued long johns and an exceedingly woolly coat. In close-ups, against his bald head, it recalls the ruffled feathers of a vulture; in medium shots, it's as if he were porting a big dead sheep on his mighty shoulders. Except for Argento, the women in the picture are almost all "furniture girls" (as per Logan's Run), all making that porno-movie "I just sucked on a lemon" face.

An avalanche scene recalls the Bond films most closely, especially in Peter Hunt's masterful editing and direction in the ski scene in On Her Majesty's Secret Service. And XXX does sport a good deal of Prague locations--whaddaya know, it has been ruined by tourists! But the film's crawling appeal to the teens is an example of poochyism--cf the "Poochy" episode on The Simpsons, featuring a cartoon dog backloaded with every quality panicky middle-aged people would presume will slake the demographic.

Shouldn't there have been a cueball-headed villain here? It would have been bracing if he and Diesel had matched wits. Someone could have yelled out that old vaudeville joke, "Say, why don't you two bald men get together and make an ass of yourselves?"
---
XXX (PG-13; 120 min.), directed by Rob Cohen, written by Rich Wilkes, photographed by Dean Semler and starring Vin Diesel, Samuel L. Jackson and Asia Argento, plays at selected theaters valleywide.
---
---
Send a letter to the editor about this story .
---
[ Silicon Valley | Metroactive Home | Archives ]