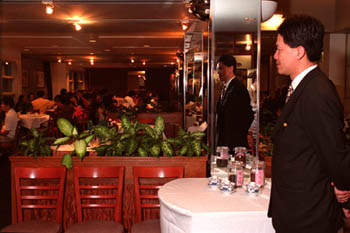 Photograph by Jacqueline Ramseyer

Little Bud: Assistant Manager Jansen Lee looks on as customers experience the best and worst Hong Kong-style cuisine has to offer--from savory Spicy Chicken to wimpy Walnut Prawns.

Late Bloomer

Palo Alto version of Hong Kong Flower Lounge doesn't blossom to vibrancy of Millbrae original

By Joseph Izzo Jr.

THE HONG KONG FLOWER Lounge has been one of my favorite Chinese restaurants for many years. In the past, whenever the occasion called, I headed over to the imposing Millbrae flagship of this enterprise. Although the original site is actually located further north on El Camino, the Millbrae branch is the touchstone. It epitomizes the excellence--and opulence--of this community institution.

In Millbrae, the food was always the product of skilled chefs--most of them imported from Hong Kong. These men and women practiced heat physics with exacting aptitude. And the dining room there was a sight to behold, with its bubbling tanks full of live lobsters and prawns, catfish and sea bass, and other edible denizens of the drink. Endless platters of delicious barbecued duck and suckling pig popped from the kitchen one after the other, leaving trails of five-spice like perfume from rare orchids. If you didn't make reservations, you had to wait. And wait.

Maybe it was a quiet night, maybe not, but when I pulled up in front of the Palo Alto installment of the Hong Kong Flower Lounge, I saw the sign, but not the liveliness I'd come to expect. Everything just seemed too sleepy for a place that is part of the Hong Kong Flower family. What lies on Waverly Street in Palo Alto is, we learned, a stripped-down version of the concept.

The nearly nondescript dining room is smaller, almost too small, for the breadth of this enterprise. And the menu, well, that's been adjusted too, meticulously pared down to include the definitive specialties that have made this place famous. In P.A., you won't be presented with a multipage compendium of Chinese cooking, but a reasonable ledger of good dishes that sell very well. You can count on fresh seafood--everything from lobsters to steamed whole rockfish--but you won't see them swimming in the tanks. (Because of space limitations, the aquarium effect has been reduced.)

After a little tea, I adjusted to the differences. Whereas in the Millbrae establishment there is no rest, due to unceasing noise and bustle, in Palo Alto you can put on your pajamas, sit back amid muted colors and have a quiet conversation. It's cool and peaceful in here--a place to relax and not be bothered. Unfortunately, expectations about the food also had to be adjusted, due to inconsistencies my guest and I perceived in both cooking and serving. Some dishes, like the Spicy Chicken with mint leaves ($11.50), were a glorious example of refined Hong Kong-style cooking. In this case, clean, fresh breast meat was cut into thin squares, toss-fried in hot bean sauce, then set to cool on a bed of crispy mint leaves. Flavors struck fast with the spice, but finished smooth with the mint.

On the other hand, the Walnut Prawns ($15), an irresistible house specialty without peer up in Millbrae, was a disappointment down here in Palo Alto. First of all, it wasn't served hot enough. This is a rich dish made with sweet mayonnaise, prawns and roasted walnuts. When served lukewarm, richness is overstated and flavors break into separate directions instead of unifying, as they should when served direct from the kitchen.

Our barbecued platter ($15)--combining pork, spareribs and duck--also arrived lukewarm, only the results were much better. All the meats had wonderful flavor, especially the duck, roasted to a crispy skin and cut into finger-handy pieces. The essence of five-spice penetrated the rich dark meat all the way to the bones.

Seafood should not be missed here or in Millbrae, tanks or not. We had whole lobster ($28 each) steamed in a natural broth full of minced roasted garlic. It was cut into small pieces that were perfect for chopsticks and swabbing in the garlic-pungent liquid. Lobster in a clay pot with a savory Chinese wine sauce ($28) makes a good alternative if you want something a little richer. For something spicier, the live Aberdeen prawns ($25) deep-fried with garlic, red chili and salt are recommended.

The kitchen will adjust recipes on request, as they did for us when combining Chinese broccoli with black mushrooms in an oyster sauce with a pleasing consistency. We also enjoyed fat chow fun noodles in a Singapore-style recipe using curry as its main seasoning.

Service started off well, but ended poorly. Our first waiter was knowledgeable about the food he was serving, commenting with confidence about the many styles of Chinese cooking and the nuances that exist in the provinces. After he left--and never came back--things changed. In short, the servers who came later were not paying attention. Everybody seemed preoccupied--there were a lot of blank stares and mistakes.

When we asked for dessert menus, for example, we received two bowls of mediocre mango pudding instead.

When we asked for more water, the busboy looked at us, smiled, then ran away--with water pitcher in hand. When he came back, he filled one glass halfway, then ran off again.

The Hong Kong Flower Lounge has a reputation to uphold. The name alone carries weight with anybody who loves and appreciates good Chinese cuisine. Currently, it has a responsibility to make a few important adjustments in Palo Alto. Here, too, patrons should find a consistently excellent dining experience. It's a tradition.
---
Hong Kong Flower Lounge
Address: 560 Waverly St., Palo Alto
Phone: 650.326.3830
Hours: Lunch weekdays 11am-2:30pm, until 3pm Sat & Sun; dinner daily 5:30-10pm
Prices: $6-$28
Cuisine: Hong Kong style/fresh seafood
---
[ San Jose | Metroactive Central | Archives ]