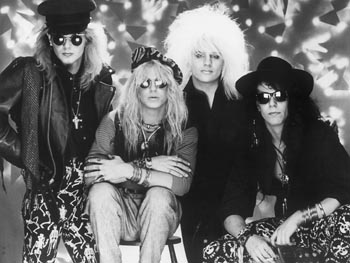 Taking Poison
The Power to the People tour at Shoreline rekindles one critic's unabashed teenaged love for Poison
By Sarah Quelland
The Power to the People nostalgia package featuring Poison, Cinderella, Dokken and Slaughter rocked the Shoreline Amphitheatre last Friday (Aug. 11). It's not often that I go to a concert as a fan, rather than as a critic, but when I heard Poison was coming to town, I felt like a giddy 13-year-old again.
Poison was my absolute favorite more than 10 years ago. My teeny-bopper walls were plastered with pictures of the band carefully ripped out of fanzines like Metal Edge and Hit Parader. Barely legal when vocalist Bret Michaels graced the cover of Playgirl (August, 1993), I dragged my best friend into a sleazy liquor store on the other side of town to take a gander at his goods. (You can imagine how disappointed I was to find him fully clothed from the waist down--he'd bared more in Metal Edge!)
With all this history at stake, there was no way I could be expected to critique a band so near and dear to my heart. So I went to this concert with a rare bright-eyed perspective that's out of character for this job. It wasn't easy finding a partner in crime given the has-been hair-band lineup. As it turned out, a co-worker who is a longtime Dokken fan agreed to be my bodyguard.
Slaughter kicked off the event, and while vocalist Mark Slaughter still has his soaring pipes, I lost interest when the band milked its hit "Fly to the Angels" for all it was worth. Dokken's straightforward performance differed little from its recent club tour.
Cinderella, however, surprised everyone and just about stole the show. The band's bluesy brand of glam-rock always stood out, thanks largely to Tom Keifer's distinctive vocals. Seeing him perform "Gypsy Road" was one of the highlights of the night.
Talking Dirty
Still, there was no doubt that this was Poison's tour. Boasting the recently reinstated vintage lineup of vocalist Michaels, guitarist C.C. DeVille, drummer Rikki Rockett and bassist Bobby Dall, the band launched through more than 10 years of favorites.
Balancing its set between rock anthems ("Look What the Cat Dragged In," "Nothin' but a Good Time"), power ballads ("Something to Believe In," "Every Rose Has Its Thorn") and sex-driven odes to the horizontal bop ("I Want Action," "Talk Dirty to Me"), the veteran band displayed the ease and professionalism that come from years of experience.
To shake things up, Poison indulged in new material, including the tour's namesake and a song featuring DeVille on vocals titled "I Hate Every Bone in Your Body but Mine." The band also revived its cover of Kiss' "Rock & Roll All Nite."
Full of Hollywood flash and scorching pyrotechnics, Poison's performance did not disappoint. My only gripes stem from the Poison after-party. When I found out I had a chance to meet these guys, I racked my brain for the appropriate item to have autographed. I wanted something different, something they'd really get a kick out of. It seems I overestimated my cleverness.
Given that the bulk of the band's repertoire features songs about sex, I thought a sex toy would be an amusing trophy. After bouncing the idea off several trusted friends who found the prospect hilarious, I went in search of the right tool. Ultimately, a discreet black-and-silver zebra-striped vibrator seemed right for the job. I even bought a Poison green paint pen so their names would stand out on the plastic.
I suppose I should have been more prepared for disappointment. When I asked Dall if he'd sign it, he looked completely repulsed and couldn't get away fast enough. Since he's an integral member of a band that so strongly advocated a promiscuous lifestyle, I was surprised to receive such a cold, prudish reaction. I thought he'd at least have a sense of humor about the whole proposition. Instead, he opted to sign my backstage pass, a poor substitute at best.
DeVille, on the other hand, apparently doesn't sign anything for anybody (a rule that sounds like a relic from the days he's admitted he was so high he couldn't even sign his own name), and he was so amped on his new band, Samantha 7 (whose hit potential he compared to Lit and the Offspring), that he didn't want to talk about Poison at all.
Feeling pretty dejected, particularly after a group of giggling girls got escorted to some elite back backstage area, my companion and I left before Michaels and Rockett made their grand entrance. If they'd been similarly unresponsive, I don't think the little 13-year-old girl inside me would ever recover.
[ San Jose | Metroactive Central | Archives ]