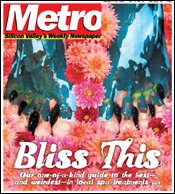 For the Week of
August 17-23, 2005
Cover Story: Bliss This:
Our one-of-a-kind guide to the best—and weirdest—in local spa treatments.
News: C-Gate:
Is there anywhere to run in the burgeoning Measure C scandal?
Training Daze: Ever wonder what Americans 'training Iraqi forces' are actually doing? Or if it's going to work?
The Fly: You down with PHP?

Vote Here!
Cast your ballot in the 2005 Metro Silicon Valley Readers Poll.




Silicon Alleys: Suicide Club.
Techsploits: Fantasy surpasses sci-fi as the genre that best captures the vicissitudes of our high-tech, security-obsessed age.
Rev: Ed Ruscha's car-based art, which never features people, offers a lonely, melancholy view of our American society.



Splashes of Time: Wong Kar-wai's glossy, elastic masterpiece '2046' grasps for an elusive human connection.
Laid Aid: Steve Carell learns to love in irreverent, funny but uneven guy movie.
Strangers on a Plane: Wes Craven's expert high-altitude thriller slowly turns into passable shocker.



Change of Plans: Goapele passes time waiting for her record to come out.
Cal Jam: Fans get behind the White Stripes at the Greek.
From Tango to Klezmer: The Cabrillo Festival of Contemporary Music ranged from Buenos Aires to Odessa in final weekend.



Premature Illumination: Robert Anton Wilson, the iconoclastic genius behind the famed 'Illuminatus! Trilogy,' has a few thousand things he'd like to teach you.
Book Box: 'The 8:55 to Baghdad' by Andres Eames; 'Railroad: Identity, Design and Culture' by Keith Lovegrove; 'Desertion' by Abdulrazak Gurnah.



True Story: Lovers of Italian food need daring places like Vero.
Live Feed: Street of Eats: Menlo Park's Little Michoacan.
5 Things to Love: Things to Do With Zucchini.



Altared States: Shakespeare Santa Cruz serves up a perfect Victorian confection with William S. Gilbert's 'Engaged.'



Please don't forget to write! Metro welcomes letters. Like any great work of art, they should be originals — not copies of letters sent elsewhere. Include address and daytime phone (for verification purposes only). Letters may be edited for length and clarity or to correct factual inaccuracies known to us. Postal: Metro Letters, 550 S. First. St., San Jose, CA 95111. Fax: 408/298-0602. Email: letters@metronews.com. Emailers, please include name, city of residence and phone number. Letters printed will list email address unless otherwise specified. Letters to the editor are not currently published in the online version of this paper.