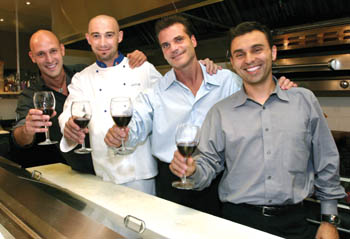 Photograph by Felipe Buitrago

It Means 'True': The owners of Vero want to stick to authentic Italian.

True Story

Lovers of Italian food need daring places like Vero

By Stett Holbrook

HAVE YOU ever seen the movie Big Night? It's about two brothers trying to save a failing Italian restaurant in 1950s-era New York City. One of the brothers, Primo, is the chef and he's frustrated because stupid, know-nothing customers don't appreciate his authentic, uncompromising Italian cooking. They want spaghetti and meatballs, not some rarefied plate of risotto. His brother, Secondo, runs the front of the house and is more of a businessman. He envies the success of a popular Americanized Italian restaurant down the street run by the less-than-scrupulous Pascal.

"Give people what they want, then later you can give them what you want," Pascal advises the struggling restaurateurs. How the brothers work that out forms the movie's plot. It's an enjoyable film full of good acting and gorgeous food (not to mention the delicious Minnie Driver). The film also offers a real window into the challenges faced by restaurateurs. One dilemma goes like this: Serve food that satisfies the lowest common denominator with crowd-pleasing but predictable stuff and risk descending into mediocrity. Go the other way and serve truly authentic, sometimes challenging food that may put off diners used to more familiar fare and risk going out of business for being too "foreign."

I thought about Big Night during my recent visits to Vero, a new Italian restaurant in Palo Alto. Vero took over the airy space formerly occupied by L'Amie Donia just off University Avenue. The owners—all from Italy—named the restaurant Vero—Italian for "true"—because they wanted to offer truly authentic Italian food like they eat back in the Old Country. But they've already had to make some compromises for American palates. Green salads aren't typically eaten in Italy so they weren't on the menu, but they have since been added because customers kept asking for them.

That's a relatively modest change, but I hope more concessions aren't on the way. The South Bay and peninsula have scores of good but unremarkable Italian restaurants that seem to be working off the same menu. Sometimes a plate of linguine in red clam sauce really hits the spot, but I'd like to see more restaurants like Vero that offer something beyond the same old pizza and pasta.

While the restaurant is still defining itself and the kitchen made a few missteps, Vero has the makings of a good, midpriced restaurant. The casual, good-looking dining room and outdoor seating add to Vero's appeal. Things started well with the involtini di granchio ($7.95), thinly sliced eggplant rolls filled with crab and topped with a bright marinara sauce and served with a mound of fresh greens. I also liked the insalata di polpo ($7.95), a Sicilian-inspired salad with marinated octopus, potatoes, black olives and Italian parsley. While the octopus verged on rubbery, it was still a refreshing, elegant dish.

My favorite by far was the ustica ($12.95), another Sicilian-accented dish of house-made linguine, chunks of swordfish, chopped eggplant, mint and garlic. It succeeds because it's deceptively simple, just a few well-chosen ingredients expertly prepared.

Boscaiola ($11.95) is a northern Italian dish that came highly recommended but it fell short of my expectations. It combines plump, house-made, meat-filled tortellini in a wonderfully saucy mushroom and tomato sauce. Trouble was the tortellini lacked the silken quality you'd expect from freshly made pasta. Instead, it was leaden and gummy.

Better was the bistecca ai ferri ($15.95). It's nothing more than grilled steak, but the olive oil, lemon juice and oregano marinade gives it a lively and rustic Mediterranean flavor. Also look for the palermitana ($16.95), a fresh fillet of snowy-fleshed sea bass braised with capers and olives in a rich tomato sauce served with garlic-laced sautéed spinach on the side.

Service is prompt and friendly, as it should be at a casual neighborhood restaurant. It didn't hurt that my waitress on two visits was from Italy. Her recommendations, not to mention her mellifluent Italian accent, improved my dining experience. The small wine list has a number of good Italian selections. The Monchiero Carbone Arneis, a chalky, refreshing white wine made from a northern Italian grape, is especially good warm-weather wine.

Portions are large so the only dessert I tried was the tortoni mousse ($6), a mercifully small but very creamy dessert with a great, nutty flavor.

I hope Vero stays true to its mission. Finding an Italian restaurant that serves spaghetti and meatballs is easy. What Vero is trying to do is much harder.
---
Vero
Address: 530 Bryant St., Palo Alto.
Phone: 650.325.8376.
Hours: 11:30am-10:30pm Mon-Sat.
Price range: $9.50–$16.95.
---
---
Send a letter to the editor about this story to letters@metronews.com.
---
[ Silicon Valley | Metroactive Home | Archives ]