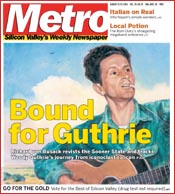 For the Week of
August 18-24, 2004
Cover Story: Bound for Guthrie:
Richard von Busack revisits the Sooner State and tracks Woody Guthrie's journey from iconoclast to icon.
News: Fraternity of the Fallen
Bonds of grief cross ethnic lines for victims of Bay Area police shootings.
The Fly: This week's political bites.
The Real American Values: It's a mistake to give the right a monopoly on values by agreeing with them in a half-baked, yes-but, wishy-washy way.

Vote Here!
Cast your ballot in the 2004 Metro Silicon Valley Readers Poll.




Biter: Injecting weight into politics eliminates substance.
Techsploits: Internet voting sucks.
Rev: Mind Your P's and Q's: A little Buddha handclasp or a mouthed 'I'm sorry' goes a long way.



Gender Is The Night: Spike Lee, channeling Norman Mailer, flaunts his sexual politics in 'She Hate Me.'
Crabface vs. Squidhead: 'Alien vs. Predator': No matter who wins, we snooze away 100 minutes.



Wish You Were Hip: It's time to note that it's officially OK for hipsters who once wrote Pink Floyd off as rock dinosaurs to admit they love them. Never mind the Sex Pistols, here's the story of how Floyd became cool again.
Fair Whether: Springsteen's darkly light 'County Fair,' a should-be summer classic.
Sonic Mélange: The Rum Diary could sneeze and it would sound ethereal.
Club Life: Art21 in Palo Alto.



Boot It Up: Pezella's Villa Napoli brings a little Italy home.
Live Feed: Why is it so hard to find a good fish taco in Silicon Valley?



Mind Games: George and Martha do battle in powerful Shakespeare Santa Cruz version of Albee classic.



Please don't forget to write! Metro welcomes letters. Like any great work of art, they should be originals — not copies of letters sent elsewhere. Include address and daytime phone (for verification purposes only). Letters may be edited for length and clarity or to correct factual inaccuracies known to us. Postal: Metro Letters, 550 S. First. St., San Jose, CA 95111. Fax: 408/298-0602. . Emailers, please include name, city of residence and phone number. Letters printed will list email address unless otherwise specified. Letters to the editor are not currently published in the online version of this paper.