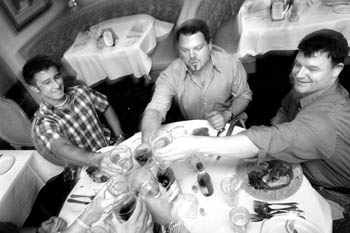 Photograph by Charlie Nucci

Cheers, Pezella: A good place to toast longevity, Pezella's Villa Napoli has been saucing it up for over 45 years.

Boot It Up

Pezella's Villa Napoli brings a little Italy home

By Joseph Izzo Jr.

MY FIRST memory of Villa Napoli dates back to the '70s, when it occupied a two-room storefront along the south side of the El Camino Real in Sunnyvale. There were rubber grapes on the ceiling then, and the atmosphere reeked of garlic simmering in olive oil. It wasn't much to look at, but the food recalled that of New York's Little Italy, where sauces scream red and pasta is served by the pound. During those years, Villa Napoli was the place to go for linguini and clams.

Villa Napoli has since moved across El Camino near the corner of Mary, where it has taken root in a free-standing building fashioned after a real Italian villa. Timbered ceilings, terra-cotta walls and garden effects with plenty of natural light instill the warmth of Italian hospitality. Ceramic faces of Bacchus (the Roman god of wine) are stationed along the walls above the dining room, creating with his mischievous gaze an ambience of epicurean celebration. Comfortable booths, spacious tables and sequestered alcove seating offer a variety of arrangements to fit a wide range of moods from effusive and communal to quiet and romantic. The owners remain active participants in the daily operation of the restaurant, patrolling the dining room, connecting with old friends and first time guests, serving plates and clearing tables when necessary.

The menu appeals to the family with a complete and satisfying lineup of Italian standards—pasta, veal, seafood—cooked with dabs of East Coast know-how. Flavors bloom wide, making immediate impact on taste buds. Roses formed on our cheeks when we dug into our appetizer of tender scungilli, or conch fish (about $7), simmered in a fiery marinara, then poured in abundance over biscuits (over linguini when ordered as an entree, $14.25). The sauce was so good, I spooned it over the rice that came with the nightly special.

Rounding out our appetizer course, we sampled a salad of fresh mozzarella, tomatoes and strong basil, plus a small pizza margerita ($8) pulled from the oven golden and crispy with a snowy mantle of good mozzarella. Larger pizzas (10 inches, 14 inches) with assorted toppings are also available.

Cousin Billy proposed a toast over the linguini and clams with white sauce ($14.75), which was so good that we reached across the table to his bowl for a twirl of tender noodles bathed in clam juice, olive oil and garlic. A mountain of whole clams, still in shell, covered the pasta from view. Villa Napoli also prepares a delicious calamari with linguini ($14.25) sautéed with a pan fresh sauce of tomato, garlic and basil.

Favorite pasta dishes made without seafood include the spaghetti with olive oil and garlic ($9.75), infused with medicinal doses of the stinking rose, and the basic spaghetti with meat sauce ($9), rich and dark red. Our only complaint with the rigatoni with meat sauce ($11.50) was that it was overcooked—soft and broken. We added ricotta to the sauce for $1.50 more.

Our appetites went north along the boot for the Milanese specialty of osso bucco (on special that night), made with customary braised veal shanks laden with meat attached to bones packed with marrow that we dug out like butter from a crock. Villa Napoli's version proved more wholesome in richness and consistency than it was deep with flavor. This visit we turned from a favorite, veal Pizzaiola ($16.75)—veal cooked in olive oil, bell peppers, onions and light tomato sauce—to the brasciole alla Napolentana ($16.75), a traditional Sunday dinner meat dish made with pounded veal stuffed with proscuitto, tied into a roll and cooked in a pulpy sauce of tomatoes and herbs.

The meal ended on the highest of notes with espresso ($1.75) and delicious cannoli, a classic rendition of this famous Italian pastry stuffed with luscious sweetened ricotta.

Villa Napoli has stayed on course since it opened more than 45 years ago, serving the kind of Italian food that celebrates the simple wonders of the Italian kitchen.
---
Pezella's Villa Napoli
Address: 1025 W. El Camino Real, Sunnyvale
Phone: 408.738.2400
Hours: Lunch 11am-2:30pm Tue-Fri; dinner 5-10pm Tue-Fri
Cuisine: Southern Italian
Price Range: $7-$19.25
---
---
Send a letter to the editor about this story to letters@metronews.com.
---
[ Silicon Valley | Metroactive Home | Archives ]