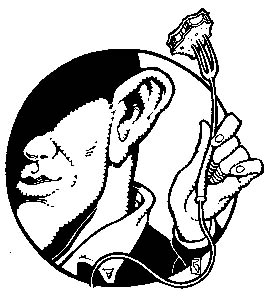 Live Feed

Piscine Contest

By Stett Holbrook

WHY IS it so hard to find a good fish taco in Silicon Valley? I just returned from San Diego, the nation's unofficial fish taco capital. As I ate more than my share of finny cuisine, I wondered anew about this culinary injustice. The burrito migrated north from its birthplace on the high plains of Sonora, Mexico. What's taking the fish taco so long?

San Diego is just a tortilla fling away from Baja, where fish tacos were born. As the story goes, fish tacos were a Japanese-Mexican joint venture. Japanese fisherman in Baja gave their Mexican colleagues the idea to fry up snapper, sea bass and other white fish in a tempura-beer batter. The tacos are filled with cabbage instead of lettuce to better withstand the withering Mexican heat. A dollop of tangy, runny sour cream and a squeeze of lime hold it all together.

San Diego-based Rubio's is one of my favorites, and it has a few North and East Bay locations, but nothing down here. I'm sure there are some good fish taco joints in these parts; I just don't know of any. If you do, I'd love to hear about them. Let me know and I'll mention your favorites in a future column.

Kinching It

When David Kinch, chef and co-owner of Los Gatos' superb Manresa, headed east for a recent demonstration of his culinary prowess at Manhattan's Le Bernardin, he decided not to leave anything to chance. He packed a sampling of Bay Area bounty into a cooler. Among his cross-country provisions was an exotic assortment of citrus grown by South Bay "fruit hobbyists." After sampling, New York Times magazine contributing editor Christine Muhlke said, "With produce like this, who needs to cook?"

Cruz On Over

If you haven't spent an afternoon tooling around the winding roads of the Santa Cruz Mountains exploring the area's excellent wineries, you're missing one of the state's best, albeit unsung, wine producing regions. Pinot Noir, chardonnay, zinfandel and other varietals all shine in this iconoclastic appellation.

At this year's Santa Cruz Mountains Commercial Wine Competition, Salamandre Wine Cellars received a double gold medal and won best in show for its 2002 Pinot Noir. The "best Santa Cruz Mountains red wine" went to Fernwood Cellars for its 2002 Zinfandel, and the best white wine award went to Soquel Vineyards for its 2003 Partners' Reserve Chardonnay.

MMMonopoly

Cupertino has a new steakhouse. Park Place opened Aug. 12 and takes the place of Helios Global Brasserie. The restaurant, overlooking the new Cali Mill Plaza, features contemporary American fare, specializing in steaks and seafood.

Eat and Greet

Alton Brown, host of the Food Network's Good Eats, is in town for Super Chefs Live at Stanford Shopping Center Aug. 21 from 11am to 4:30pm. The event will also include cooking demonstrations by other chefs, wine seminars sponsored by Jacob's Creek, coffee roasting demonstrations by Palo Alto Coffee Roasting Company, free samples of Godiva chocolate and celebrity cookbook sales by Books Inc.

Downtown Magazine, Zoe Nightclub and Public Allies Silicon Valley host the annual Summer August Party on Friday (Aug. 20). The event benefits young leaders of Silicon Valley and will feature a tasting menu donated by downtown San Jose restaurants including the Fairmont Hotel, Eulipia, Lombok Restaurant, Sonoma Chicken Coop and the Agenda. There will also be live jazz and a raffle. Doors to Zoë, 417 S. First St., open at 5:30pm. Tickets are $25 and include dinner, music and admission to the club.
---

5 Places to Love

Dinner Music

WHAT do you feel like doing tonight? Going out to dinner? Checking out a live band or a DJ? Why not both? Below is a selected list of restaurants that let you eat to the beat.

Agenda Haute, California-inspired menu fuels Agenda's hip upstairs nightclub. Be sure to wait 30 minutes after eating before diving in. 399 S. First St., San Jose, 408.287.3991

Cabritos Mexican Bistro Tuesday is karaoke night; Friday and Saturday catch mariachi music. On the first and third Wednesdays of the month, Joe Bithell and His Silicon Valley Gulch Jazz Band lay down Dixieland jazz to complement Cabritos' burritos. 685 E. El Camino Real, Sunnyvale, 408.738.0517

Cascal Restaurant This sexy Mountain View newcomer offers live flamenco guitar and jazz along with its pan-Latino food Friday-Sunday. 400 Castro St., Mountain View, 650.940.9500

Seven Restaurant and Lounge After checking out twin chefs Curtis and Russel Valdez' moves in the dining room, bust a move of your own at this sleek downtown restaurant and lounge. DJs spin tunes Friday and Saturday nights. 754 The Alameda, San Jose, 408.287.3991

Waves Smoke House and Saloon Smoky baby back ribs, hot links and tri-tip sandwiches call for a side of blues, reggae and jazz. That's what Waves got and on Wednesdays this 130-year-old building and former cathouse hosts the San Jose Jazz Society's Jazz Jams, an open-stage jam session. 65 Post St., San Jose, 408.885.9283



---
Send a letter to the editor about this story to letters@metronews.com.
---
[ Silicon Valley | Metroactive Home | Archives ]