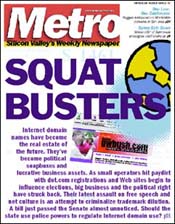 For the Week of
August 19-25, 1999
Cover: Squat Busters
Just as the world of domain ownership was starting to turn profits for some small-time operators, like computer consultant Zack Exley, corporate America wants to criminalize it. Plus: The latest assault by big business and the political right on free speech and net culture is a bill that just passed the Senate unnoticed. Should the state use police powers to regulate Internet domain use?
News: Former Model
Sunnyvale rose to national fame when it was given 'model city' status by the Clinton/Gore administration for its well-run government. But oh, how times change.
Call of the Wild: Silicon Valley wildlife center needs a warm touch--and cold cash--to save critters.
Public Eye: Historic hotel's future in limbo again. Honda keeps it all in the family. Demoted Merc columnist fights pay cut.
Best of Silicon Valley 1999: Fight voter apathy! Win free stuff! Use our online ballot to speak your mind about the best the valley has to offer.



Doctors in the House: Basement Jaxx are good for what ails you with blissful house music on their new album, 'Remedy.'
Worldwide Vibe: A reggae conference and showcase brings lots of jah music to San Jose.
Cher and Cher Alike: The famed chanteuse leads a Shoreline audience through a career's worth of hits.
Nonstop Musica: Rock en español bands meshed genres with ease in all-day Watcha show.
Aural Fixation: Hometown honeys the Donnas teased and pleased at the Edge last week.



Sebastian's Excellent Adventure: 'The Adventures of Sebastian Cole' proves that Ferris wasn't the only hip '80s teen.
Shock City: 'Detroit Rock City,' a contrived tribute to '70s rockers Kiss, goes for the gross every time.
S.F. Story: A teen's documentary steals the show in the Asian film anthology, 'Young and Dangerous.'



La Vie Bohème: A local girl makes good in Bay Shore Lyric Opera's 'La Bohème.'



Great Balls of Fire: Big hair, big smiles, big menu and big steaks make the Three Flames an eternal light.



Please don't forget to write! Metro welcomes letters. Like any great work of art, they should be originals -- not copies of letters sent elsewhere. Include address and daytime phone (for verification purposes only). Letters may be edited for length and clarity or to correct factual inaccuracies known to us. Postal: Metro Letters, 550 S. First. St., San Jose, CA 95111. Fax: 408/298-0602. . Emailers, please include name, city of residence and phone number. Letters printed will list email address unless otherwise specified. Letters to the editor are not currently published in the online version of this paper.