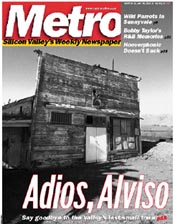 For the Week of
August 20-26, 1998

Cover: The Last Small Town
Alviso stands on the edge of being revolutionized by high tech, and when it goes away, only the memories will remain.




News: All That Haz
Decked out in the latest anti-contamination gear, San Jose's shock troops prepare for the Big One, be it chemical, biological or nuclear.

Public Eye: Gonzales stays the course; Dando tries on new message.

Concrete Jungle: In search of the wild parrots of Sunnyvale.






The Fine Art of Turning Inside Out
'Tis the season for Metro's guide to summer indulgences, with outdoor concerts, theater and our best picks for relaxing daytrips. There's also day-by-day calendar of summer events that you'll want to bookmark for the long and luxurious days ahead.



Dern, Baby, Dern: Laura Dern moves from Jurassic Park to a trailer park in TV drama The Baby Dance.



Music Man: San Jose's Bobby Taylor looks back on a lifetime spent making R&B with the likes of Marvin Gaye and the Jackson 5.
Ecce, Ecco: Can the new San Jose dance spot Club Ecco keep 'em down in the valley?
Milking the Hypnotic: Belgium's Hooverphonic adds passion to electronica on Blue Wonder Power Milk.
The Real Thing: Young hip-hoppers like A Tribe Called Quest have been sampling organist Reuben Wilson--now the original appears this week at the Agenda Lounge.
All Shook Down: The Cabrillo Music Festival brings down the house with a skillful collection of modern music.
Audiofile: Reviews of the latest CDs by Bob Burnett, Sally Nyolo and Ernesto Diaz-Infante.



Wedding Day: The Best Man interrupts the big day.
Dull Blade: New vampire thriller doesn'tstick its neck out far enough.
Stormy Weather: Even Uma Thurman in a cat suit can't save The Avengers.



Sushi Cue: Here's a tip on Midori, where the fish is even fresher than the paint on the newly decorated walls.



Please don't forget to write! Metro welcomes letters. Like any great work of art, they should be originals -- not copies of letters sent elsewhere. Include address and daytime phone (for verification purposes only). Letters may be edited for length and clarity or to correct factual inaccuracies known to us. Postal: Metro Letters, 550 S. First. St., San Jose, CA 95111. Fax: 408/298-0602. . Emailers, please include name, city of residence and phone number. Letters printed will list email address unless otherwise specified. Letters to the editor are not currently published in the online version of this paper.