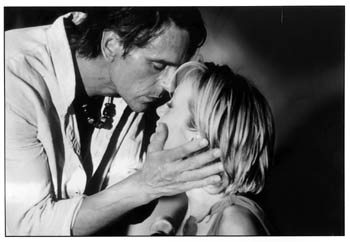 Smooch Operator: Jeremy Irons romances Patricia Kaas.

Beau Guests

Claude Lelouch's 'And Now ... Ladies & Gentlemen' delivers yet another man--and yet another woman

By Richard von Busack

DIRECTOR MICHAEL WINNER used to detonate more bombs than the UXB squad, so the joke had it that Winner was the most misleadingly named man in showbiz. But what about Claude Lelouch? Is there any director who has less of that sultry, musky quality that's meant by the word "louche"? In his new movie, And Now ... Ladies & Gentlemen, Lelouch tosses up a salad of the usual elements of the romantic film: Moroccan locations, cool jazz, a gentleman jewel thief and a pair of matched his-and-her brain tumors. All the elements are there, as they were in Lelouch's biggest success, the 1966 A Man and a Woman. He hasn't changed his style in decades; he still poses sketched-out figures against posh backdrops like costly cars, yacht regattas and five-star hotels.

Jeremy Irons plays the gent thief, doubly named Valentin Valentin, who rips off Bulgari in Knightsbridge using no more than the threat of a hidden weapon and some little-theater-level disguises. He wins a wife through one of his heists, but the years pass, and she tires of Valentin's guilt and remoteness. In the meantime, we see how a celebrated jazz singer named Jane Lester (Patricia Kaas) is losing her groove; she suffers the loss of both boyfriend and best friend, when each falls for the other. Jane ends up gigging in Morocco, where Valentin ends up by shipwreck. They're stimulated by the daring jewel robbery of a wealthy dowager, played by Claudia Cardinale.

And Now ... Ladies & Gentleman (the movie's even named after a yacht) is different than the mainstream in some respects. For 40 years, Lelouch has been denounced as a director who made movies like commercials. But the nature of commercials has changed. They're more ominous and insistent, and Lelouch's fleecier soft-sell may survive as nostalgia. At times, one can almost respond to the vintage class in the film. Kaas acquits herself on chansons like "Ne Me Quitte Pas" and "La Mer"; Francis Lai's theme song to A Man and a Woman also turns up for mucho swank. There are times when the fake-poetic moments have their much-wonted plushness, like a scene where a blacked-out Jane wakes up in a traffic circle. Hearing a crescendo of car horns, she asks a cop weakly, "Where is the orchestra?"

Still, as an exercise in the old style, the film is a little too retrograde even for the serious old-movie fan. Naming characters "Mme. Falconetti" and "Mr. Hitchcock" is as doomed a strategy as James Ivory introducing clips of Cocteau's Beauty and the Beast in Le Divorce. It's not much help either to refer to an offscreen love scene as being "like in the movies." Irons and Kaas, who's a more world-weary version of Julie Andrews, seem to be so tragically separated by destiny that they don't even really seem introduced to one another. Lelouch's real passion is once again saved for photographing sailboats in the sunset.
---
And Now ... Ladies & Gentlemen (PG-13; 133 min.), directed by Claude Lelouch, written by Lelouch, Pierre Leroux and Pierre Uytterhoeven, photographed by Pierre-William Glenn and starring Jeremy Irons and Patricia Kaas, opens Friday at the Los Gatos Cinema and the Century 16 in Mountain View.
---
---
Send a letter to the editor about this story to letters@metronews.com.
---
[ Silicon Valley | Metroactive Home | Archives ]