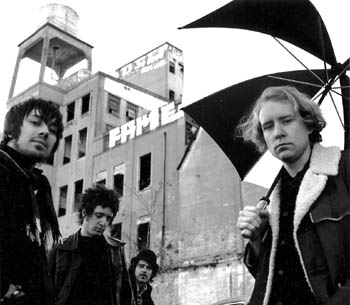 LFO raise expectations.

Owls Rise

Low Flying Owls should fly higher than ever with 'Elixir Vitae'

By Sarah Quelland

SACRAMENTO'S LOW FLYING OWLS just dropped their sophomore effort, Elixir Vitae (Stinky Records)--the full-length follow-up to their self-released Take the Scenic Route--on Aug. 12, and they play the Blank Club this Thursday (Aug. 21) with Dead Meadow and Parchment Farm. Featuring Jared Southard on vocals and guitars, Andy Wagner on guitars and keyboards, Michael Bruce on bass and Sam Coe on drums, the Low Flying Owls create music that comes across as a soaring yet melancholy blend of Brit-rock and California pop with some trashy New York sleaze thrown in for effect.

The dramatic "Georgie Shot Johnnie" sounds like Grant Lee Buffalo on a Beatles kick. Seductive and exotic with its tambourine shake, electrifying guitars and yearning vocals, the bristling and depressive "Mama Said" plays like the Doors jamming with the Velvet Underground. Similarly, the dreamy psychedelic "Strange Connection" pulses with a melodious Beatles aura, and "What My Friends Say" has a Doorsy "Roadhouse Blues" bounce. Guitar distortion and feedback give "Swingin' Sam" a sneaky perverse quality, while blasting trumpets bring distinction to "Looks of a Killer." Meanwhile, the dreary instrumental "Babies Made" evokes Twin Peaks.

Moody, dark and lush, with added influences of Iggy Pop, Pink Floyd and David Bowie, the Low Flying Owls' Elixir Vitae raises the stakes high enough to make all the retro darlings of the moment nervous. Visit www.lowflyingowls.net.

NEW ROMANTIC: With members in San Francisco and San Jose, rock outfit RubberSideDown recently celebrated the release of its new album, American Romantic, and the band returns to Waves Smokehouse & Saloon this Monday (Aug. 25) for a free show with the Golden Gods, Trash City Saints, Man Alive and Slow Day Coming.

RubberSideDown includes vocalist and guitarist Kevin Casey, bassist Michael Scott, guitarist Joe Bettencourt and drummer Paul Batres, and the group's music taps the same well as alternative-rock bands like the Goo Goo Dolls and power-pop groups like the Plimsouls--and adds just a splash of classic rock.

The band's commercial appeal hasn't gone unnoticed, and it has licensed material (including "Some Other Place" and "Hot Wheels a Go Go") to Felicity and Roswell.

With melodic, guitar-driven songs and insightful lyrics tinged with pain, highlights of American Romantic include the lovesick "Echoes of London" ("Everything is outta reach here, since I left the girl across the water / I can't eat and I can't sleep and I can't talk to no one till I call her"), the desperate "Where'd You Go" ("I think I called you about a thousand times / But you don't answer the phone, and I don't think you're alone") and the resilient "Broken" ("I don't break, and you can't make me"). With sensual bass lines, penetrating guitars and drowsy cellos, "Insomnia" chronicles a long, sleepless night an hour at a time, while "St. Joe's" speculates on the life of a troubled stranger who's trying to pull her life together. Visit www.rubbersidedowntheband.com.

THROUGH MANMADE GOD'S EYES: The Zeppelinesque first single "Safe Passage" has been in rotation on KSJO for some time, and after being pushed back from a July release, East Bay hard-rock outfit ManMade God's self-titled debut on American Recordings finally comes out this Tuesday (Aug. 26). Pann (vocals), Craig Locicero (guitars), James Walker (bass) and Steve Jacobs (drums) stay true to the classic '70s guitar-rock genre while taking creative risks by using strobe-light guitars on "Bad Creation" and merging disco with metal on "Pulp." Sludge ("Swamp Water"), psychedelic ("The Search for Greater Things") and Southern rock ("Lizard Bones") bring added dimension to this effective new record that's heavy without being abusive.

Part of MMG's appeal is Pann's thoughtful and contemplative lyrics. He can be poetic as on "The Path" ("Go and kiss all the butterflies I've broken / Sew their wings to the coat of my misfortune") or abrupt, as on "Meet My Maker" ("I'm gonna meet my maker, shake his hand / Tell him he fucked up with this master plan"). He's unafraid to question, and there's an undeniable strength of conviction in his words, especially on songs like the prophetic "Revolution" where he declares, "We keep marching on to the same old song / And now it won't be long 'cause it's coming down / And the hammer's gonna swing." Visit www.manmadegod.com.
---
Send a letter to the editor about this story to letters@metronews.com.
---
[ Silicon Valley | Metroactive Home | Archives ]