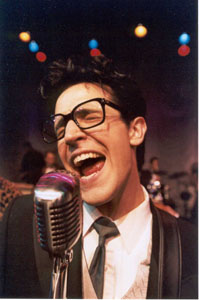 Photograph by Dave Lepori

Must Be the Glasses: Travis Poelle re-creates the ur-geek appeal of Buddy Holly.

Buddy's Waters

New musical at San Jose Stage Company explores the legend of rocker Buddy Holly

By Marianne Messina

TRAVELING FROM Carmel to San Jose, lock, stock and studio sets, the musical production Buddy: The Buddy Holly Story left a traditional proscenium stage for the three-sided theater space of San Jose Stage Company. It seems to be working. At last Saturday night's full-house performance, the wrap-around audience boosted the party-jam atmosphere and created lively audience participation.

Theatergoers' willingness to adopt the role of "audience" every time the Holly character performed led to an interesting effect during the scene that depicted Holly's first night at the Apollo Theater. (The Harlem-based theater had hired him sight unseen, assuming he was black.) When Travis Poelle's Holly stepped up to the microphone and introduced himself to the Apollo crowd, the San Jose Stage audience responded so enthusiastically it all but drowned out the staged voices of hecklers intended to represent how Holly was booed through his first two nights at the Apollo (until he started his third night with a song by Bo Diddley).

Playing on a Holly-esque guitar his mother had given him in the eighth grade, actor Travis Poelle was sufficiently smooth and charismatic as Holly's stage persona, and he was a convincing hometown boy in the lighthearted scenes, but he seemed to come up short in some of the more dramatic scenes. That may just be a reflection of the musical genre's general tendency to avoid emotions any more negative than longing.

The second act was basically a condensed reconstruction of Buddy's last performance in Clear Lake, Iowa, just before his fatal plane crash, which could have been annoying if you happen to like plot. Still, the music was up close and powerful, the choreography playful, and eventually you could just sort of shift from theatergoer mode to concertgoer mode and be OK with it. Kudos to musical director Don Dally, not only for his musical direction but for obviously having such a grand old time filling in on guitar for Mark Holzinger as Tommy Allsup (Holly's guitarist, who missed the fated plane ride through a coin toss with Ritchie Valens). Scott Free was another Clear Lake high point, with his winsome Big Bopper, but it was 14-year-old Manuel Romero as Ritchie Valens who had the audience roaring.

The play's handling of Holly's death was rather enigmatic. In all of half a minute, with a darkened stage and Holly's lone guitar spotlighted, a radio announcement about "the late great Buddy Holly who died today along with ..." turned the fact that three famous musicians--not to mention a play's main character--had just died into a footnote. When the lights came up, out bounced Holly, Valens, and the Bopper for a resurrection encore of several songs. I know musical is all about "happy," but there has to be a better way to rewrite a tragedy--say, calling it over when the fat guy sings.
---
Buddy: The Buddy Holly Story, a San Jose Stage Company production, plays Wednesday-Saturday at 8pm and Sunday at 2pm at the Stage, 490 S. First St., San Jose. Tickets are $28-$38. (408.283.7142)
---
---
Send a letter to the editor about this story to letters@metronews.com.
---
[ Silicon Valley | Metroactive Home | Archives ]