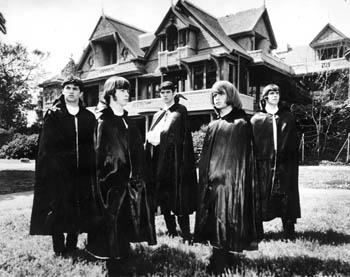 Caped Crusaders: Back in the day, the Count Five took the charts by storm with their proto-punk hit 'Psychotic Reaction' and their Transylvanian wardrobes.

Count on It

Legendary San Jose band the Count Five reunites for one more 'Psychotic Reaction' at the Edge

By Steve Palopoli

KLIV-AM (1590) is all talk now, but back in the mid-'60s it was a maverick Top 40 station that didn't take shit from nobody. The station managers even refused to buy ratings books, banking on a tight bond with their listeners (including taking 'em to the Boardwalk for "Surfin' Safaris") and playing everything from garage rock to R&B to pachuco soul. They also spun a ton of local stuff, from the Los Altos-based Chocolate Watchband to the Tikis from Santa Cruz.

But KLIV's biggest claim to fame came in 1965, when DJ Brian Lord stumbled upon a caped, crazy San Jose rock band called the Count Five, whose incredible hit "Psychotic Reaction" paved the way for psychedelic rock and was eventually named one of the most influential songs of all time by the Rock & Roll Hall of Fame. Gritty, heavy and fuzzy before it was cool to be such, "Psychotic Reaction" has since been claimed as an anthem by every camp from punk rock to doom metal and covered by acts as diverse as Tom Petty, the Cramps and Eugene Chadbourne's Shockabilly.

Count Five lead singer Kenn Ellner remembers how it all started, when Lord first heard the band play. "We had to play one night at West Valley College in Campbell--it was at the corner of Campbell and Winchester at the time; it was a temporary campus," says Ellner. "We were playing a show there, and Brian Lord was the announcer at the show. He kept coming up and going, 'I can't believe you guys. I cannot believe you guys.' And then my dad [who was managing the band] starting talking to him, and they really hit it off. And Brian said, 'Listen to the radio on Monday afternoon'--'cause he was on from 3 to 6 on KLIV. He played, like, three songs, and then he stopped playing music and just spoke about us for 20 minutes on the radio--just, you know, he was at this show and 'You've gotta see these guys,' and all this stuff."

It's been almost four decades now since "Psychotic Reaction" tore apart the charts, and 15 years since the Count Five have graced the stage. But they're finally getting together again Aug. 22 at the Edge--it's a criminally rare chance to hear how far ahead of their time this San Jose band really was.
---
The Count Five play Friday (Aug. 22) at 8pm at the Edge, 260 California Ave., Palo Alto. Tickets are $20. (650.289.0222)
---
---
Send a letter to the editor about this story to letters@metronews.com.
---
[ Silicon Valley | Metroactive Home | Archives ]