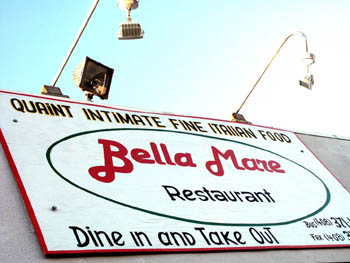 Photograph by Dina Scoppettone

Unreal Estate: Sure, the plants are plastic--but the throwback continental cuisine is the real stuff.

Strip Mall Continental

Bella Mare overcomes its location with bold sauces and sweet service

By Joseph Izzo Jr.

I HEARD about Bella Mare from a reader who talked up the food in her letter but feared that its dismal location, in a run-down neighborhood strip mall, would be its death knell. Even the waiter admitted that the location is just plain "bad." The décor isn't much better. Dining in oblivion was my first impression.

When the host, also the previously mentioned waiter--and, in fact, the sole waiter on staff--saw us enter, he bounded to the front like an ebullient child, smiling with such great enthusiasm that I thought he was laughing. The lost little plants and artificial decorations turned suddenly warm and came to life when he was nearby. This I liked immediately. The improbable charm of this restaurant may challenge the sensibilities, but it all comes together, especially after chilly glasses of Fontana Candida, Pinot Grigio 2001. Once refreshed and settled in, our thinking began to change.

Brothers Roger and Guillermo Sanchez run this little Cambrian restaurant with sweet devotion. Roger pilots the burners with 20 years of experience, as the menu states, in the art of creating Italian cuisine. Buddha-like Guillermo captains the diminutive dining room, emanating charisma from floor to ceiling. Because of them, Bella Mare transcends its safe but sad location.

The chef's brand of cooking harks back to the mid '70s and early '80s, when continental cuisine with its rich sauces and bold, demanding flavors captured our affections. Sanchez earns high marks with his flair for achieving those bold flavors. Best of all, the food is affordable. Most entrees are priced at $12.95, with several under that. Butterflied filet mignon topped with sautéed jumbo prawns was the priciest entree at $19.95.

We opened with two salads, a romaine ($4.95) and a Spring Mix ($5.25). Crisp and field-fresh yes, but the dressings were bland. Even with the customary hints of anchovy, the Caesar dressing (on the romaine) lacked snap. With our salads, we had a round of carpaccio ($6.95). The thin slices of raw beef came slightly frozen, but not for long. The hot weather quickly banished the chill, allowing the flavors of lemon and capers and Parmesan to open in full bouquet.

We struck gold with the gnocchi ($9.95). Thumbnail potato dumplings thoroughly engaged the palate with a velvet sauce based on tomato, dill and cream. We plucked the tender dumplings to the very last, then licked the sauce from the spoons. We liked the spicy linguine ($11.95), but not as much as the gnocchi. The ingredients were fresh and abundant, but the flavors had not yet coalesced.

Veal and capers ($13.95) resurrected flavors from the continental kitchen. The capers rose in full glory, investing the rich brown sauce with tangy properties. From texture and flavor, I could tell this veal had not come from a calf imprisoned in darkness but from one that had roamed the field and felt sun on its hide. Chicken Marsala ($12.95) presented a huge breast, devoid of skin and sautéed with garlic, butter and orange zest in a creamy Marsala sauce. The size and succulence of the shellfish in the spicy prawn sauté ($12.95) impressed us much more than the tomato sauce in which they swam.

Our evening at Bella Mare ended sweetly with a Grand Marnier custard immersed in raspberry sauce and warm bananas wrapped in crepes with vanilla ice cream, and more raspberry sauce for dipping. All desserts are $4.95.

The best way to visit Bella Mare is to ignore the parking lot and the tacky little shops that surround it. Just get inside quick and have Guillermo pop a cork on a good bottle of wine. Take a deep breath, forget your worries and know that you've found something like an oasis in the desert--something to brag about.
---
Bella Mare Ristorante
Address: 241 Woodard Rd., San Jose
Phone: 408.371.4138
Hours: 5-9pm Tue-Sun
Cuisine: Italian/continental
Price Range: $9.95-$19.95
---
---
Send a letter to the editor about this story to letters@metronews.com.
---
[ Silicon Valley | Metroactive Home | Archives ]