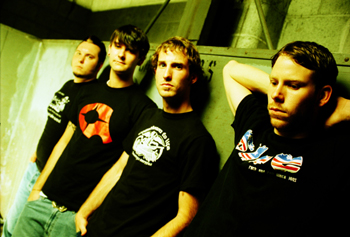 DC Squawk: The Fighting Jacks are hooked with Sound Management, which propelled Smash Mouth to greatness.

Higher Power Chord

Can a band be Christian rock and popular? San Jose's Fighting Jacks will soon find out.

By Nate Seltenrich

THE LOS GATOS Outhouse is little more than that--a small, function-before-form two-story affair tucked behind Los Gatos High School. On a warm night in late July, the Outhouse is inundated by a hundred or so teenagers, and judging by the abundance of late arrivals in Fighting Jacks T-shirts, most of the venue's young attendees are here to see the 3-year-old San Jose rock group's official homecoming show.

The Jacks are indeed home. Lead vocalist and guitarist Casey Linstrum, brother and bassist Cory Linstrum and guitarist Mike Wright are all from San Jose, while drummer Jon Sontag is from Santa Clara. Tonight's concert is named the "Fighting Jacks Homecoming Show" because the band has been on the road for the past month visiting such exotic destinations as Missouri and Tennessee. Adding to the excitement, the Fighting Jacks are set to release their first full-length record, The Dying Art of Life, in October.

At 9:45pm, the band steps aboard the Outhouse's foot-high stage, and applause erupts from about 50 kids who had been waiting patiently in front of the Fighting Jacks' unmanned instruments. Crushing closer to one another and the musicians onstage, they eagerly follow the Fighting Jacks through an exhausting 45-minute set of old and new songs, including the radio-friendly nuggets "Your Lurking Shadow" and "Farewell Senator."

"I'm really proud of them," says the show's organizer, Eric Fanali, "I can't name 10 San Jose bands that have toured nationally."

The wheels of progress are turning for the Fighting Jacks. A week after this show, they will head off for a tour of the Northern states and Canada. They are linked to Sound Management, the Campbell company that propelled Smash Mouth to greatness.

The band's biggest billing was on the main stage at BFD 9 in 2002 after winning a LIVE-105 contest. The Fighting Jacks have also played underground venues like San Jose's Chemical Free Zone and the Portable at South Valley Christian Church in San Jose. The Jacks' tendency to play more "wholesome" local venues is no coincidence--they are tenuously tied to the Christian-rock movement. The band downplays this connection in interviews, but tonight Casey Linstrum sports a black T-shirt bearing the logo of pseudo-Christian label Tooth and Nail Records.

Although the Fighting Jacks' melodically abusive rock is difficult to miss, their spiritually tinged message and cynical take on modern society are more covert. In a song called "Glass Tables," from its self-released EP Inside Trade Agreement, the band makes vague references to a higher power: "Have you ever breathed for me / Filled my lungs when I could not / Captured breath and rescued me? / Did I call it normalcy, normalcy? / Breathe for me."

"All four of us are Christian guys, and we're very serious about our faith," says Cory Linstrum. "We sing a lot about society, problems we see, about American greed or consumerism. It's not necessarily a Christian topic. It's a part of who we are, what we believe."

Prior to forming the Jacks, Cory and Casey played with Wright and drummer Mike Hoppe in a ska band called Freeto Boat. They signed to an indie label (although Casey left soon thereafter) and went on a four-year, two-album run. In August 2000, the Linstrums, Mike Wright and Mike Hoppe became the Fighting Jacks in order to start a project more within their taste and with greater mainstream appeal. In 2002, Sontag left the San Jose punk band FAN5 and joined the Jacks in place of Hoppe.

The resulting sound is an intense blend of punk and rock influences. The band covers the hard/soft range almost as well as the Foo Fighters and often delivers a mesmerizing repetition of hooks and rhythms almost as well as Sunny Day Real Estate. The cooperative songwriting and raw energy reflect the musical maturity of the group's members. Wright's riffs and Linstrum's bass lines alternate positions at the helm while Casey and Corey duel as frontmen--the ultimate sibling rivalry. Sontag's drumming is no less concentrated and is highly effective in its purposeful simplicity.

The Fighting Jacks are signed to Tooth and Nail Records, an independent label based in Seattle that has a reputation for signing Christian bands like MxPx and the OC Supertones. The two parties made a deal in May of 2003 after the Jacks spent a year showcasing for major labels with disappointing results.

"Through signing with Tooth and Nail, we've kinda been lumped into the Christian label," says Linstrum. "We've never really been a part of that. We've always been a mainstream, general-market band."

But this statement is inconsistent with the band's history of performing at Christian-music festivals. They are regulars at Portico (ex-TOMfest) and rookies at the Cornerstone Festival, both of which feature Christian music, art, worship, speakers and ministry-oriented workshops. Earlier in July, the band performed at Cornerstone, a multiday Christian event in Illinois. "We wanted to play it just because it's a good way to get exposure," says Linstrum. "We're a relatively unknown band out there, and we played in front of probably four or five hundred people."

So, are the Fighting Jacks using Christian-music festivals to tap into regions they wouldn't otherwise have access to?

"We kind of feel like outsiders when we're at festivals like that," Linstrum concludes. "It really does feel awkward when they just assume that you're a 'Christian band.'"

That said, Linstrum admits the Fighting Jacks will continue to perform at both Cornerstone and Portico in the future.

This particular evening, it's a spiritual encounter of the rock & roll kind. Ashley and Alexandra Stidham, ages 17 and 15 respectively, from San Jose, are aware of the band's religious beliefs but are content to simply soak up the energy of their music.

Next to them, a slender male friend with a lip ring and a gloss of sweat covering his body sings along with every line. As the Jacks' wind up their set, fans cheer and slowly spill out on to the patio, awaiting rides. Others stick around to shake hands with the band members.

On the brink of The Dying Art of Life, the Fighting Jacks are perched in musical purgatory. It will take the approval of the mainstream audience to send them to the other side, but they are more than happy to earn salvation the hard way.

"We don't want to be the next big thing," says Linstrum. "We want to build something up and be the band that's underground, but that everyone keeps hearing about and that everyone's talking about."
---
The Fighting Jacks headline the Sunday (Aug. 24) show of Stop, Drop and Rock! at the Gaslighter Theatre, 400 E. Campbell Ave., Campbell. Doors open 6:30pm. Tickets are $8, available at Streetlight Records.
---
---
Send a letter to the editor about this story to letters@metronews.com.
---
[ Silicon Valley | Metroactive Home | Archives ]