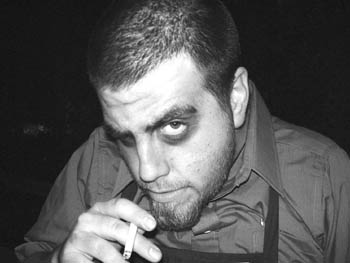 Photograph by Tadashi Andrews

Verse-Place Winner: Local bard Mike McGee is the new king of performance poetry.

Slam Man

San Jose's standup poet laureate Mike McGee returns to town as the national slam champ

By Traci Vogel

RUMORS of Mike McGee's fame are greatly exaggerated. But not by Mike McGee. There's no Newsweek interview in the works--that was just a practical joke played by one of his friends. Sitcom offers are probably still years away. "I'm just a regular guy," McGee insists, "who's poor as all hell and enjoys performing in front of other people."

Most regular guys, even poor ones, don't enjoy performances that involve standing in front of a thousand eccentric intellectuals at a punk-rock venue in Chicago and being judged for every word uttered. Most regular guys don't write poetry, much less commit that poetry to CDs. Most guys, though, aren't the No. 1 slam poet in the country. As of Aug. 9, 27-year-old San Jose native Mike McGee can claim that honor.

Slam poetry has come a long way since the days when it was associated with a lot of drinking, bad metaphors and histrionics. Now it's associated with a lot of drinking, mind-bending metaphors and Saul Williams. Williams took to the screen in the 1998 documentary Slam Nation and then again in the fictionalized Slam, becoming the face of an art form in two fell swoops. In interviews, Williams has described slam poetry as "living art." What concerns him is not necessarily the writing of it, he says, but the living.

This split between the writing and the living has spurred many a debate over whether slam poetry is "real" literature, in the sense that written poetry is. McGee thinks they're two completely different animals.

"My stuff is so performance-based, a lot of it doesn't work out on paper," he explains. "I use a lot of voice characterization, mannerisms, gestures and things. There's a huge difference. There's not even a fine line--it's a Highway 101 line. But there's no reason for the two of them not to be able to cross over; you just have to understand what the difference is. With literary poetry, you have to try and reach your audience on page. In performance poetry you have to do the same thing, but from the stage."

McGee calls what he does "standup poetry," although he's not sure he coined the phrase. His love of performance began as standup comedy, courtesy of the BakaTalk open-mic series that featured at San Jose's Cafe Babylon in the late '90s. McGee took advantage of the open mic as a way to make people laugh, but he couldn't fathom the appeal of the poetry slam format.

"I hated slam," he exclaims. "I didn't want to have anything to do with it. I didn't understand the idea of judging someone else's poetry, plus I wasn't all that into poetry in the first place. I thought it was really dull."

But the poetry he grudgingly listened to started to inspire him, and after a year of open mics, McGee picked up the verse virus himself: "I realized it was OK to write poetry; I wouldn't be uncool. I started incorporating my comedy stuff into my regular poetry."

With his friends involved in slam--and with a team formed in San Jose in 1999--McGee decided to give real competition a go. He made the 2001 team and shipped off to Seattle for the National Poetry Slam. Unfortunately, McGee says, "I sucked." The San Jose outfit didn't do well, and after some interpersonal team conflict, McGee decided to give the sport a rest.

This intermission would prove to be the catalyst McGee needed. When he returned to help fellow slammer Anthony Miller run the Metro Silicon Valley Poetry Slam at Waves Smokehouse, McGee found himself on a winning streak. "In the time I had off from slamming, I had written a lot, and I had practiced a lot," he says. "Once I have the poem memorized, I practice it like it's lines in a play. And I started having fun! I don't know if it's because I was winning, but at the same time there was a really good vibe in the San Jose scene."

Two weeks ago, McGee rode that vibe into the national competition in Chicago, where the San Jose slam team rocked. On an individual level, McGee rocked even harder; he versified his way through a series of rounds to become the National Slam Champion.

"It was the most memorable night of my life. I can remember each and every detail from that night," he says. The rest of the slam nation can, too; McGee is already booked to perform in New York, Los Angeles and the Pacific Northwest. There was even talk of a conversation with a television producer, but McGee won't say who. Better to stay away from the swelled-head stuff.

"I don't think this is going to make me stupid and asshole-ish," he promises. "I've seen [slammers] broke and wondering where the next gig is coming from, so I have that to look forward to. In all of this, though, my poetry has gotten a lot better."
---
The Metro Silicon Valley Poetry Slam takes place every Tuesday at Waves Smokehouse, 65 Post St., San Jose. Sign up at 7:30pm; $5; ages 18 and up. For more information see www.msvps.com.
---
---
Send a letter to the editor about this story to letters@metronews.com.
---
[ Silicon Valley | Metroactive Home | Archives ]