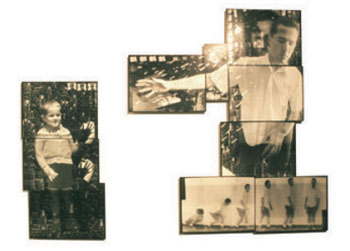 WORKS in Progress: To celebrate a quarter-century of independent art boosting, WORKS/San Jose issues a special catalog recapping the gallery's eclectic history.

In the WORKS

San Jose's alternative art space celebrates 25 years

By Gary Singh

I FIRST CROSSED the threshold of WORKS/San Jose in 1992, and even then the gallery had an illustrious history. San Jose's predominant alternative art and performance space had recently moved from South First Street to a warehouse in Japantown and was headfirst in yet another phase of its existence. Inside, the place looked run-down as hell, which was a good thing. The artists themselves were right there on the floor, wrenching on stuff and building partitions for the next show. The place was so real the toilet didn't even work right.

It all began in October of 1977 at the corner of Vine and Auzerais--the first location blessed with the WORKS moniker. Local artists renovated the abandoned Western Mountaineering building and launched their own volunteer-run experimental venue for art, music and performance. Nothing remotely similar was going on in San Jose at the time. Following its stint at Vine and Auzerais, WORKS migrated to the Leticia Building on South First Street during the last half of the '80s and then moved to Sixth and Jackson in Japantown. In 1996, the gallery would move to its present location at 30 N. Third St., where it seems to fit nicely in the former taxi-mechanic shop. Through a quarter-century of ups, downs and ever-changing directorial boards, the organization has weathered the storm.

Most importantly, there's never once been a single, solitary "leader" of WORKS. The artists themselves run the fort as a whole, with change being the only constant. It's amazing that the place is still kicking after all these years.

To celebrate its crazed, wandering history, the gallery is releasing a full-colored 56-page catalog titled WORKS/San Jose, The First Quarter-Century. Four essays in the book recall key exhibits, events, financial struggles, as well as the mutating cultural climate of San Jose during the last 25 years. Woven throughout the catalog is a listing of everyone who's ever shown or performed at the gallery. Three cheers for rigorous documentation. San Jose needs more of that kind of stuff.
---
WORKS/San Jose hosts a reception for its 25th-anniversary catalog Friday (Aug. 22), 5-7pm, 30 N. Third St., San Jose. San Jose City Councilperson Cindy Chavez will offer a toast at 5:45pm.
---
---
Send a letter to the editor about this story to letters@metronews.com.
---
[ Silicon Valley | Metroactive Home | Archives ]