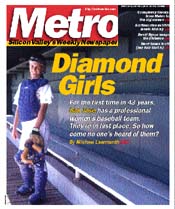 For the Week of
August 21-27
Cover: Diamond Girls
After a 43-year hiatus, professional women's baseball returns to San Jose, with a team record that would make any city proud.
News: Guarding the Jailhouse
The Santa Clara County jail guards' union has endured more than its share of internal strife, with a quarter-million of its budget spent on lawsuits ordered by its leader, Richard Abbate.
Back to the Garden: The naked truth about shedding clothes, breaking rules and chatting with Susie Bright.
Public Eye: Uniform uniformity.
Polis Report: Programming oldies but goodies.



Flea-Market History: At America's Smithsonian, the relics of national myth rub shoulders with pop-culture detritus.



Clubbed Demi-SEAL: G.I. Jane is a tribute to Demi Moore's personal trainer.
After the Rush: Julia Dyer's lesbian comedy Late Bloomers bucks the trend.
NYPD Beef: The pounds make the man in Stallone's predictable Cop Land.
Talking Pictures: Famed conspiracy collector Jonathan Vankin analyzes the new paranoia thriller Conspiracy Theory.



Whole Lotta Lolla: Lollapalooza '97 lurched back into its rightful spot as the alternative rock festival to be reckoned with, and George Sakkestad captures it in an online photo essay.
Foreign Exchange: Japan's Pugs make American audiences scream at Lollapalooza.
Remembering Luther: Just as he achieved the homegrown success he craved, bluesman Luther Allison was gone.
Flash in the Deadpan: David Byrne's finely honed sense of irony survives undimmed on Feelings album.
Casting a 'Spell': With Book of Spells, the Boneshakers shakes free of Was (Not Was).
Beat Street: Lollapalooza returns to its original vision.



Worm's Turn: Mexico's other great agave derivative--smoky, powerful mezcal--takes its rightful place as a premium sipping liquor. Christina Waters samples rustic handmade mezcals from remote Oaxacan villages.



Please don't forget to write! Metro welcomes letters. Like any great work of art, they should be originals -- not copies of letters sent elsewhere. Include address and daytime phone (for verification purposes only). Letters may be edited for length and clarity or to correct factual inaccuracies known to us. Postal: Metro Letters, 550 S. First. St., San Jose, CA 95111. Fax: 408/298-0602. . Emailers, please include name, city of residence and phone number. Letters printed will list email address unless otherwise specified. Letters to the editor are not currently published in the online version of this paper.