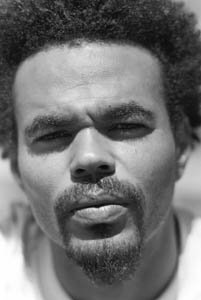 Escaping Boundaries: Azeem moves from spoken word to hip-hop with craft and aspiration.





Crafty Classic

Hip-hop artist Azeem builds from the ground up

By Jon Weldon

I FIRST CAME ACROSS Azeem last fall, at Tongue Tuesday's open-mic sessions at Eli's Mile High Club, the closest thing to regular hip-hop in Oakland--spit flying, and hands slicing the air in time. I could feel the hip-hop trying its best to escape the boundaries of spoken-word comfort, and Azeem's energy and presence impressed during an otherwise quiet evening.

Soon after, I suddenly noticed posters for Azeem's debut EP, Garage Opera, scattered around. Afraid it was more a cappella poetry, I slept on it. Barely six months later, he emerges with Craft Classic, a full-length album from Stray Records that features seven Bay Area hip-hop producers accompanying an energetic, charismatic and articulate Azeem. It's an effective tactic--showcasing Bay Area production talent providing diverse beats for Azeem's lyrical prowess.

Azeem continues to perform at Tongue Tuesdays, and during an animated conversation at an Emeryville cafe, he tells me that spoken word gave him his start, before he realized its musical and political limitations.

Back in 1994, he won a Bay Area poetry-slam contest that put him on the road with Lollapalooza and, through that, in connection with Spearhead and Michael Franti, with whom he toured for a couple of years.

Yet Azeem points out how the spoken-word scene pigeonholes artists in a way that hip-hop does not. "The spoken-word scene is kind of a trap for someone who wants to aspire to something else. People wanna put you in a box that's almost inaccessible to people on the streets."

Actually, before even the Spearhead connection, "it's always been the hip-hop for me, always been the music," Azeem says. "It was hip-hop that made me start reading and writing, made me find the thing that I did good. If not, I would just be a common criminal. That's the only thing I thought I was good at." Thus, Tuesday at Eli's exists as the best regular night for him to hone his stage presence and test out new lyrics.

Garage Opera, admittedly, was not particularly groundbreaking but more like ground-building, built for the loyal underground heads.

He explains, "To me, it's all a chess game. You can't just come out and be Snoop Dogg overnight. I knew [Garage Opera] would be my introduction to the scene, so I chose underground beats, and I did some bugged-out stuff on the record purposely, because I wanted to set a strong foundation for hip-hop fans." It's a solid underground album for certain, but in these days of underground hip-hop proliferation, it is lost.

THE NEW ALBUM, Craft Classic, takes the next step, the launching pad to the next level musically, the appeal to a wider audience. It begins with "Simple Ting," a cinematic tune with a beat reminiscent of a Timbaland production (of Missy Elliot fame)--staccato hi-hats, shiny horn lines and sparse kick drums. But rather than sparse vocals riding on top, Azeem shatters the number with a mouthful of syllables and powerful lyrics, making a valiant crossover attempt between a commercial, club-oriented sound and underground honesty.

"If you take an underground cat who's got good lyrics and put them over a Timbaland beat, it's something for everybody. That's my personal plan of attack--I want tight music with ill lyrics," he explains.

Azeem's ecumenical plan is to move beyond a local Bay Area scene, to "see seven seas and digits," as he proposes on "Local Registration Paper," a tune that targets those overly local-minded musicians.

"Music is universal. If you take a local approach, you're gonna hang yourself. What's local, stays local. The thing about the Bay Area is that they don't embrace you until you blow up somewhere else," he tells me.

"Palm Wine Two," one of the singles from the album, is aimed more at DJs, harnessing a clickety-clack drum beat similar to Reflection Eternal's DJ Hi-Tek but produced by Foreign Legion's Design. And on "Anti-Azeem," he teams up with New York experimental MCs M. Sayyid and Priest of Anti-Pop Consortium for a tight display of lyrical agility, carried by Protest's tantalizingly tweaked production--textured and disjointed.

THE DEARTH of venues for live hip-hop performances in Oakland means that all the collaborations happen in the studio without the spontaneity of live performances. Why? "Everybody's trying to feed their pockets. Nobody's trying to reach for the next cat. Never do we sit down and form a commission and say, yo, let's do this. And until that happens, Oakland won't have a scene!"

At least partially, he got his wish two weeks ago at the NoMayo Funky Precedent Volume Two record-release show--though it was thrown at Slim's, in San Francisco. Nestled in the midst of a great lineup, including Zion I and Pep Love, Azeem blasts onstage, launching into "Simple Ting," hyper and pumped up, then moves without missing a beat into his verse from "Anti-Azeem," demanding the crowd's attention.

He pauses to take off his jacket and introduce "Duragz," a tune describing his fetish for "sisters in duragz straight out of the pen." Mixing humor, energy and confidence, he manages to rile up the mostly white crowd, which appears unfamiliar with most of his songs, and I think about his depiction of a crowd: "Every crowd has a silver lining. The thing about the crowd is the collective subconscious. It becomes one. You're literally talking to one person. You might see 500 people, but you say scream, they scream as one."

It's true--his performance was thoroughly entertaining for his unabashed passion and sincerity.

Whether hip-hop--underground or commercial--or spoken word--political or poetic, Azeem is honing a verbal versatility with a carefully calculated vision of the next level. Catch him test new material at Eli's on Tuesdays; check out the wide musical appeal of Craft Classic or just listen to his pertinent messages during another "pimp of all pimps" Bush age. Don't sleep!
---
Jon Weldon holds down a rhythmic universe while staring at his wall in west Oakland. Try it.
---
[ San Jose | Metroactive Central | Archives ]