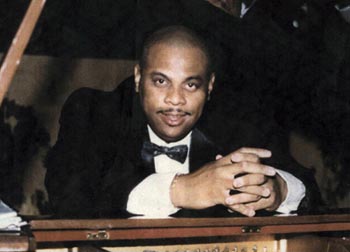 Natural Evolution: Chuchito Valdes follows in his father's musical footsteps.

The Son Also Rises

Chuchito Valdes does his famous father, Jesus Valdes, proud

By Jesse Chuy Varela

BEING THE SON of one of the world's greatest pianists must be hard. Yet for Chuchito Valdes, the son of the Afro-Cuban jazz pioneer Jesus "Chucho" Valdes, it has been a natural evolution that has guided him down a musical path very similar to his father's. At 35, he is the eldest son of a family of five and making a name for himself as a pianist, composer and arranger. "I began studying classical music as a boy," says Chuchito, who leads his Afro-Cuban Ensemble Saturday (Aug. 25) at Fuel. "When I was 13-14, I decided to put my piano studies aside and play baseball as a pitcher for the Cuban national team for my age group." He dropped the piano briefly but soon returned to La Escuela de Musica Ignacio Cervantez to specialize in classical as well as Cuban popular music until graduation.

His awareness of jazz rose around the age of 3 to 4 when he heard his father play records by Bill Evans, Erroll Garner and Oscar Peterson, as well as popular Cuban players like Peruchin, Lili Martinez and Bebo Valdes, his grandfather. His first professional jazz stint was at age 16 with Cuban jazz vocalist and trumpeter Bobby Carcasses. From there, he accompanied a variety of popular singers like Pello El Afrikan, the king of the Mozambique style, Anibel Lopez, the sister of Silvio Rodriguez, and Sonido Contempora, a group that included such virtuoso alumni as Gonzalo Rubalcaba, Hilario Duran and others.

"We played a lot of jazz standards and were the only group in Cuba really doing that--tunes like 'On Green Dolphin Street,' 'Giant Steps' and 'All the Things You Are.' "

For Chuchito, the most important influence on him, aside from his father, is the original Irakere band. Weaned on the band as a young teenager, he spent two years playing in it in the late 1990s when his dad decided to pursue a solo career. It allowed him to tour the world alongside a fruitful cast that included trumpeter Julio Padro and a budding generation of Cuban jazz artists. "I have to say that the first Irakere band is my favorite. I would go with my father every day to rehearsals and see how Arturo Sandoval and Paquito D'Rivera would practice their passages. I experienced a great innovation in Cuban music, and it's one of the best things that's happened to me," he says from Chicago, where is he currently performing.

"Jazz is a different language for us," he explains. "Bebop is as hard to play as is a danzon. So you have to study a jazz piece to be able to interpret it the best possible way. What we take from jazz are the harmonic changes. It's very advanced and stretches chords beyond the seventh note. Jazz uses open and closed chords, polyphony and other things that we are drawing from to enrich Cuban music."
---
Chuchito Valdes and His Afro-Cuban Ensemble perform Saturday (Aug. 25) at 9:30pm at Fuel. 44 S. Almaden Blvd., San Jose. Cover is $12. (408.295.7374)
---
[ San Jose | Metroactive Central | Archives ]