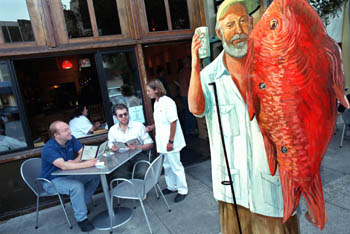 Photograph by George Sakkestad

iQué Rico! Modeled after Ernest Hemingway's most treasured Havana hangout, La Bodeguita del Medio brings the playful flavor of Cuba to downtown Palo Alto.

Mama Loves Mambo

A lively scene, casual ambience and a menu that offers visual attitude make for a memorable dining experience

By Christina Waters

BLEND CARIBBEAN FLAVORS and tropical colors with the mellow bite of a good cigar, and you've got the concept behind La Bodeguita del Medio, another charming watering hole with fun food located on Palo Alto's delectable California Avenue. Based on a vintage Havana haunt of Ernest Hemingway's, this welcoming bevy of rooms packed with banana-yellow walls and colorful artwork sports three areas of action. A huge dining room with open-beam rafters and a long banquette--potted palms everywhere--lies off to one side of an intimate bar--the perfect spot to down a mojito or daiquiri. Down the hallway, past the exhibition kitchen and through a heavy glass door, is the cozy cigar divan, filled with dark walls, heavy drapes and big, overstuffed chairs. There's even a patio out back for that moonlight smoke.

Joined by La Bodeguita veterans Paolo and Beverly, we ordered a bottle of excellent Frog's Leap 1998 Merlot ($39), one of the best of its breed, and enjoyed dredging bits of sourdough through fiery, chile-steeped oil. Servers hit just the right tone, somewhere between a playful samba and swift, smart delivery. We responded by having a terrific time throughout the meal. I have to admit, given its ambience, La Bodeguita would be the place to enjoy a seriously stiff drink.

Sharing everything, we bypassed the temptation of Cuban black bean soup and conch chowder, and started with a trio of crab cakes sided with spicy, roasted corn relish and pickled pink cabbage ($8). Another plate--piled high with garlicky, Tabasco-spiced prawns--grew on me with every bite ($10). But it was some sassy empanadas--impossibly light and non-greasy--that had us all thinking (culinarily speaking) like Fidel when he's kicking back with a big Cohiba. A good-looking starter, these little crescents were packed with shredded picadillo pork, roasted chiles and pepper jack, with a coconut-chipotle sauce and killer black beans on the side ($7.50). Saludos al cocinero.

Paolo's attractively eclectic Tierra y Mar ($20) offered, as advertised, the best of both worlds. Slices of tender, juicy skirt steak--done medium rare, as requested--held down one side of the plate, and three giant, coconut-crusted tiger prawns, the other. A pungent malanga-goat cheese puree, and cilantro pesto, offered dipping diversion. Some grilled asparagus proved a bit overly cilantroed. An entree of Yuca-crusted mahi-mahi ($16) was delicious and beautifully seared. It came with a nice black bean salsa, and a mound of mashed purple potatoes rose like a little Mayan pyramid from the center of the plate, ringed by sweet, white baby beets. Everything looked sexy--obviously the kitchen here likes to have a good time, too. The real Cuban specialty of our entree selections was the Ropa Vieja ($16) a relentlessly delicious stew of shredded skirt steak, laced with chiles, red peppers, tomatoes, petit pois with sweet sautéed bananas, black beans and coconut-milk-laced rice--moros y cristianos (Moors and Christians, get it?).

Along with espresso strong enough to have rescued Elian Gonzalez, we split two dreamy desserts. One was a huge plate of warm bananas and cold ice cream with sticky-sweet caramelized walnuts, called Havana Bananas ($6.50). It was a lot of hands-on fun to consume, but quickly became cloying. A key lime tart was outstanding and too good for the likes of a rum-soaked Hemingway ($5.50). On a perfect crumb crust sat a feather-light, impossibly creamy key lime custard laced with lime zest and surrounded by squiggles of raspberry puree. If the bananas were Bautista, the tart was pure Ché. With just enough authentically orange, spicy and tropical-fruit-accented flavors to make you feel like a true Carmen, La Bodeguita really has no pretensions. It's an entertaining cocktail scene, with a surprisingly zesty restaurant attached. Like us, you'll probably have no problem with that. And yes, the music practically gets up and wiggles its hips. All restaurants should be this playful and unstuffy.
---
La Bodeguita del Medio
Address: 463 California Ave., Palo Alto
Phone: 650.326.7762
Prices: Moderate
Cuisine: Cuban by way of coastal California
Extras: Full bar and well-insulated cigar room
---
[ San Jose | Metroactive Central | Archives ]