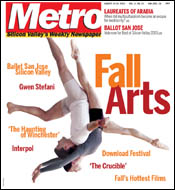 For the Week of
August 24-30, 2005
Cover: Fall 2005 Arts:
As Ballet San Jose Silicon Valley dancers and Metro cover models Alexandra Koltun and Alex Lapshin are our witnesses, our guide to fall's arts and entertainment offerings covers everything you might want to see, from ballet to music to theater to opera to movies to dance. It's all here, baby!
Movies
Music
Stage
Classical
Performing Arts
Visual Art
News: The Trouble With Islam-Bashing:
Poet Nimah Ismail Nawwab brought her vision of Saudi Arabian Islam to San Jose. But is she too honest to succeed in America's 'bad Muslim' pop culture?
The Fly: Bizarre Write-Up II the Flipsyde.

Vote Here!
Cast your ballot in the 2005 Metro Silicon Valley Readers Poll.




Silicon Alleys: Beer and Loathing at Spartan Stadium.
Techsploits: Google Earth is globalism instantiated.
Rev: Novella Sells Out: Though the couple opted to sleep on the wind-swept beach instead of inside the vehicle, they certainly could have stretched out in the Highlander.



Very Grim Indeed: Terry Gilliam stoops to 'Van Helsing' depths in sodden fantasy 'The Brothers Grimm.'
Bittersweet 'Sympathy': Gory, uneven Korean action film by Park Chan-wook treads an all-too familiar path.
Pretty Vacant: Teen film 'Pretty Persuasion' tries for black comedy but ends up in mushy gray area.
Santo Scene: Tarantino comes to Mexico in 'Matando Cabos.'



One for All: After a decade, Medeski, Martin & Wood recognize the power of the individual.
Where Is the Club?: Is an all-age venue too much to ask for the 10th-largest city?



Logic of the Bizarre: Aimee Bender's stories in 'Willful Creatures' take logical detours through bizarre landscapes.
Book Box: 'The People's Tycoon' by Steven Watts; 'Buffalo Bill in Bologna' by Robert W. Rydell and Rob Kroes; 'Temple Stream: A Rural Odyssey' by Bill Roorbach.



This Food Stinks: And if you're a daredevil eater looking for the last culinary thrill, it may be your best bet.
Live Feed: Hot Lunch: Not So Hot.
5 Things to Love: Great Sandwich Shops.



Please don't forget to write! Metro welcomes letters. Like any great work of art, they should be originals — not copies of letters sent elsewhere. Include address and daytime phone (for verification purposes only). Letters may be edited for length and clarity or to correct factual inaccuracies known to us. Postal: Metro Letters, 550 S. First. St., San Jose, CA 95111. Fax: 408/298-0602. Email: letters@metronews.com. Emailers, please include name, city of residence and phone number. Letters printed will list email address unless otherwise specified. Letters to the editor are not currently published in the online version of this paper.