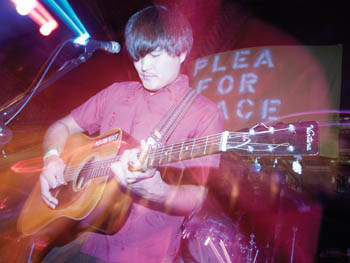 Pedal Pusher: Mike Park is biking the coastline for the kids.

Where Is the Club?

Is an all-age venue too much to ask for the 10th-largest city?

By Mike Park
---
(Editor's Note: Mike Park is no stranger to weird journeys. The Monte Sereno-based Asian Man Records honcho and solo artist just returned from a U.S. tour of people's living rooms. On Sept. 8, he and a team of 15 will bike down the West Coast—from Olympia, Wash., to San Diego—for a noble cause: to raise awareness and funds for an all-age venue in San Jose. I asked Mike to write about this endeavor, and between bike-training sessions, he was happy to oblige.)
---
A COUPLE OF months ago, San Jose surpassed Detroit as the 10th-largest city in the United States. In recent years, downtown San Jose has embraced a new public library, a vast array of new restaurants, a Grand Prix, a comedy club, a multiplex theater, what seems like a new 21-plus meat-market dance club every month and a new City Hall. But something is missing: music for all ages. We have the jazz festival, which is amazing, but not many high school kids are crossing the days off the calendar in anticipation for it. So why are there no all-ages venues for kids?
Let's look at our more famous neighbors to the north. In San Francisco, kids can go to Slim's, Bottom of the Hill, the Great American Music Hall, the Fillmore, the SF Weekly Warfield and the Pound for live music. What do we have in San Jose? I realize there are the HP Pavilion, the Shoreline (in Mountain View) and the SJSU Event Center, but none of those are clubs that have weekly events. They're all big venues hosting huge artists with tickets going for $25-$50. Kids have no choice but to travel to either San Francisco or Berkeley to see any bands that haven't sold a million copies or more.
In years past, people have tried and failed in their attempts to keep music available for all ages. Grand Fanali comes to mind, but every venue ERIC FANALI tried to host shows at closed, changed formats or didn't want young kids causing problems in their establishment. He had to find creative outlets, even using Nickel City arcade as a place to host shows. I hear there are shows going on at a church called the Cave, but how long will that last?
I've been raising funds for the last 16 months in order to give San Jose a music outlet for all ages. So far, we've raised more than $30,000 for this project that will provide a place for kids who have interests other than sports or whatever medium schools and peers deem "normal." It will be a center that will give youth an outlet to perform music, create art, dance and talk to others with similar interests.
On Sept. 8, me and a group of musicians and artists will ride our bikes from Olympia to San Diego to raise funds for this music space in San Jose. Musicians include DAN POTTHAST of MU330, MATT EMBREE and STEVE CHOI from RX BANDITS, JENNY CHOI, NEIL HENNESSEY from LAWRENCE ARMS, RANDY STROHMEYER from FINCH. With zero sponsorship, the riders are relying on donations from family and friends to raise funds for project. We have two benefit shows: Sept. 23 in Oakland at iMusicast and Oct. 1 in Anaheim.
People always tell me that I should get grants for the project, but so far, I've been turned down by every request (over 100 grant proposals). I have a stack of letters that say, "Thanks, but we can't help you at this time." It's frustrating, but this is something that's important to build a stronger community and to give back to the youth by using something that has given so much to me—the power of music.
---
For more information about Mike Park's Bike for Peace tour or for ways to donate to the cause, visit www.pleaforpeace.com. Mike Park's new solo CD 'North Hangook Falling' comes out this week.
---
---
Send a letter to the editor about this story to letters@metronews.com.
---
[ Silicon Valley | Metroactive Home | Archives ]