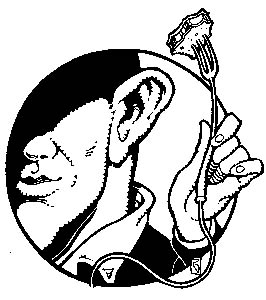 Live Feed

Hot Lunch: Not So Hot

By Stett Holbrook

SUMMER IS ALMOST OVER for most grade and high school students. The long, idle days of summer will soon be replaced by homework, colder weather and, for too many students, really bad food.

Public school lunch programs are in poor shape in this country. School food service programs are designed to be financially self-sufficient and too often that means keeping costs down by relying on prepackaged, processed food that is cooked offsite and reheated in school kitchens. But calling them kitchens is a stretch since very little actual cooking takes place. The reliance on cheap food commodities helps keep costs low but the result is poor-quality food high in fat and sugar. Few students eat cafeteria fare and therefore the food service programs continue to struggle to stay solvent. It's a vicious cycle. The worst part is that kids are forced to eat nutritionally inferior food that contributes to this country's childhood obesity crisis. The problem is worse for low-income students who rely on free or reduced price meals.

Berkeley's EDIBLE SCHOOLYARD program, the brainchild of CHEZ PANISSE founder ALICE WATERS, takes a different approach and offers a model for other schools. Instead of serving bowls of mystery meat stew washed down with sugary soft drinks, students help grow produce in school gardens and eat superior-quality food from local providers. Food becomes part of the school's curriculum. By growing, harvesting and preparing nutritious seasonal produce, students gain a better understanding of where their food comes from and a better understanding about the natural world. The program also promotes environmental and social well-being in the community. For students not used to fresh produce, there is some resistance at first, but the hands-on approach makes vegetable lovers of most. The program started at Martin Luther King Jr. Middle School but is expanding to all Berkeley schools.

Silicon Valley and peninsula schools have a long way to go, but some districts are making improvements in their food service programs. In Palo Alto, a group of parents working with a local nonprofit group got the PALO ALTO UNIFIED SCHOOL DISTRICT to adopt a new food service policy that will go a long way toward providing better food on campus. As it stands, the food service program has only a 13 percent participation rate, a telling figure. Under the new policy, which should be implemented in the next two years, Palo Alto schools will promote the consumption of healthy and "nutrient dense foods" and limit food products with poor nutritional value. Beverages for sale will be limited to water, milk (including soy and rice beverages), 100 percent fruit juices and fruit-based drinks composed of no less than 50 percent fruit juice without added sweeteners. Schools will also strive for food preparation practices and packaging that promote sustainability and environmental responsibility.

"We're trying to get fresh and appealing food in the school districts," says SUSAN STANSBURY, program director of Palo Alto's VALLEY OF DELIGHT, a nonprofit group working to promote local sustainable agriculture. In working with the school district, Stansbury says the goal is not just to remove sugary, fattening foods but to replace them with food that looks and tastes better. Will kids eat it? In Southern California, schools in Ventura adopted a similar program and participation in the school food service program is now at 81 percent.

"The kids really do respond to it," she says.
---
Send a letter to the editor about this story to letters@metronews.com.
---
[ Silicon Valley | Metroactive Home | Archives ]