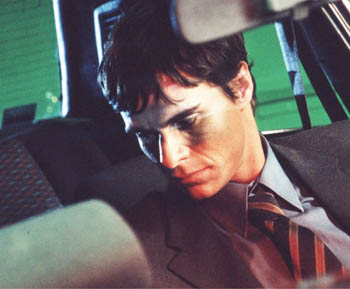 Hit the Road, Jaque: Tony Dalton plays a young man in trouble with his future father-in-law in 'Matando Cabos.'

Santo Scene

Tarantino comes to Mexico in 'Matando Cabos'

By Richard von Busack

JUST BECAUSE Mexico City is the biggest city in the Western hemisphere doesn't mean that directors can't make trifling films there. Matando Cabos, Alejandro Lozano's insignificant crime-spree comedy, is as derivative as it is slow. The title is a pun on "atando cabos," a phrase meaning "loose ends." (Speaking of the delights of idiom, the production company here is tellingly called Lemon Films.)

The corpulent, snake-tempered steel magnate Oscar Cabos (Pedro Armendáriz Jr.) starts the story by beating up his future son-in-law, because he is enraged at catching him in bed with his daughter, Paulina (Ana Claudia Talancón). The son-in-law-to-be, Jaque (Tony Dalton), works for the old man. Jaque goes to the office to apologize for making Pauline dance before the music played, as Glen Campbell put it so deathlessly. The old plutocrat is practicing his putting on the carpet. Seeing Jaque again, he is so infuriated that he accidentally takes a pratfall on a golf ball and is knocked cold.

Through even more labored circumstance, some kidnappers snatch Cabos' janitor, thinking he is Cabos. As it turns out, the brains of the kidnapping organization (Raúl Méndez) doesn't recognize his hooded and gagged janitor as his father and tortures him relentlessly. Meanwhile, the real Oscar Cabos rides around in the trunk of Jaque's car while the none-too-brilliant young man and his best pal, Mudi (Kristoff Razcinsky), cook up a scheme to get the boss home. Finally, the two innocents have the temporary brains to call up an old buddy—the retired lucha libre wrestler Ruben, alias Mascarito (Joaquín Cosio).

Cosio is so easily the best thing in the movie that you wish the film's hypertextual flashbacks (that Run Lola Run jazz) could swallow the main story whole. The adventures of Santo the Masked Wrestler, and all his other followers, may have been escapist cinema. Still, Santo is a uniquely Mexican form of popular art, remembered fondly by locals and tourists alike. The happiest part of Matando Cabos is the tribute to Santo's heroics; Ruben takes ecstasy and imagines himself under siege by mummies, alien chicks and a werewolf—all of which, and far worse, the burly tumbler faced in his day.

Matando Cabos doesn't offer women very much; the female characters are ditzes, bitches or both. The slow-speed car crashes, including the wanton destruction of a classic Chrysler, speak of decades of dumb-ass movies soaked up spongelike by Lozano. Dalton sings Lozano's song, "The Queen of Polanco," about a girl from a ritzy Mexico City neighborhood. The lyrics promise the queen in question that she will be taught how to cook and clean. Whether this chauvinism is supposed to be retro or nowtro, Matando Cabos certainly doesn't run out of ways to annoy. It is hard to get mad at something that's this spinelessly eager to please. It is also hard to pay attention to something in which neither the violence nor humor has any sticking point. From the imitation of De Niro in Taxi Driver by actor Gustavo Sánchez Parra to the dubbed-in "zoooooop" of a record scratch as another lazily staged fight is about to break out, this is a film that is so drastically post-Reservoir Dogs, you'd think Tarantino's movie had just arrived there a year ago. It's Things to Do in Mexico City When You're Dead. But the point of the film is clear: Santo, come back: Mexico needs you.
---
Matando Cabos (R), directed by Alejandro Lozano, written by Lozano, Tony Dalton and Kristoff, photographed by Juan José Saravia and starring Tony Dalton and Pedro Armendáriz Jr., opens Friday at selected theaters.
---
---
Send a letter to the editor about this story to letters@metronews.com.
---
[ Silicon Valley | Metroactive Home | Archives ]