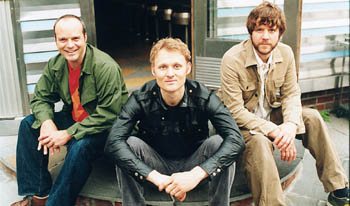 To the Curb: MMW love the loops.

One for All

After a decade, Medeski, Martin & Wood recognize the power of the individual

By Peter Koht

WHILE THE shelf life of the average jazz trio is about 90 minutes plus an encore on a good night, the groove collective of John Medeski, Billy Martin and Chris Wood shows few signs of slowing down after almost 15 years of playing together. Formed in Boston around the time of the first Gulf War, the band's recorded catalog ranges across the entire spectrum of improvised music, from Hawaiian chants ("HeyHeHiHo") and spirituals ("Does Anyone in Here Love My Jesus") to postmodern pingpong games ("Off the Table").

In typical fashion, their latest record, End of the World Party, bears little resemblance to their previous efforts. Produced by one half of the Dust Brothers, the album is actually produced instead of having the visceral live feel of Tonic or Notes From the Underground. The songs on the album are built up out of loops and phrases and assembled much more like a Beck record than that of a jazz trio known for vintage keyboards and slinky bass.

Reached at his Brooklyn apartment, drummer Billy Martin was happy with both the product and the departure from the standard process. "We decided to let the producer make more of the decisions and to let go of a lot of preconceived notions," he says. "We are also into the idea of someone who grew up in that style where they created their own thing through that subculture of DJing and working with musicians through sampling and looping."

Martin's love of the loops has influenced most of his latest work. In between raising a family, working with MMW and making experimental videos, he heads his own record label named Amulet that has released two compilations of his organic breakbeats as well as CDs by Bob Moses, Tisziji Muñoz and Scotty Hard. "I am about more the avant-garde than the others," Martin explains.

Even running Amulet can't keep Martin off the stage. He is constantly kicking the kit for numerous live dates in and around New York City in addition to his work with MMW. He's a musical polyamorist. "I always like to get out of stuff in order to get back into it," Martin says. "Side projects keep my perspective fresh with playing with Chris and John."

Harnessing the innovation and spontaneity of musicians outside the trio is part of the mature MMW sound, with frequent guests joining them onstage and in the studio. But the party wasn't always open to other guests.

"We lived together, we ate together, we worked together and we even vacationed together," Martin says. "It was a bit incestuous, so after a while we realized that you can't do that, even with your own family.

"Now our relationship as a group is stronger because we have rooted ourselves back into our individual personal lives."

Like a family, the trio has forged its own vocabulary and nonverbal cues. While the stage plot has never shifted around, none of the tunes represented on the groups' releases have been kept static.

"It is all over the board," Martin says of the material that the group has been churning out live. "There is certain new stuff from the latest record that we are expanding on and playing differently each night, and also some really old stuff because we are playing some spaces that haven't heard anything that we have done."

With the possible exception of Madrid before the Nationalists took it back in the Spanish Civil War, this group's collective ethos and sense of internal community is one of the marvels of the music industry. If an eclectic instrumental trio of three radically different musicians can manage to make it this far and still be a vital creative force, there is hope left in the world. Just in case, Medeski, Martin & Wood will happily supply the soundtrack for the end-of-the-world party (just in case).
---
Medeski, Martin & Wood play Thursday (Aug. 25) at Montalvo's Garden Theatre; 408.961.5800. Tickets are $30-$45 and available through Ticketmaster.
---
---
Send a letter to the editor about this story to letters@metronews.com.
---
[ Silicon Valley | Metroactive Home | Archives ]