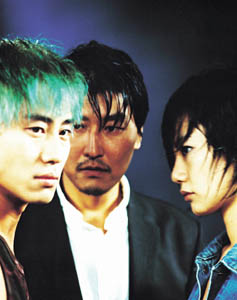 Trio of Trouble: Shin Ha-kyun (left), Song Kang-ho (center) and Bae Doona brace for the worst in violent 'Sympathy for Mr. Vengeance.'

Bittersweet 'Sympathy'

Gory, uneven Korean action film by Park Chan-wook treads an all-too familiar path

By Jeffrey M. Anderson

IT HAS BEEN only been a few years since South Korean films have begun spreading across the United States, and the dozen or so samples we've seen have tended toward the extreme. On one side, we have the patient, painterly artworks like Im Kwon-taek's films Chunhyang and Chihwaseon or Kim Ki-duk's Spring, Summer, Fall, Winter ... and Spring; on the other, we have intense envelope-pushing explosions like Lies, Nowhere to Hide, Save the Green Planet! Not to mention this year's festival hit, Oldboy.

Made in Korea in 2003, Park Chan-wook's Oldboy told the epic story of a man imprisoned for 18 years for no particular reason who then attempts to unravel the mystery upon his release/escape. With its high-concept idea, a superb performance by lead actor Choi Min-sik, and a few astonishing fight scenes, the film pleased Quentin Tarantino during his 2004 Cannes Film festival jury duties, as well as all his legion of fans.

Based on the success of Oldboy, Tartan Films has chosen to dig up and release one of Park's earlier films, Sympathy for Mr. Vengeance (2002), which is even more brutal than Oldboy, but sadly less focused and with less intrigue. The film tells the story of a recently laid-off deaf factory worker, Ryu (Shin Ha-kyun), who wishes to save his sister's life by obtaining a kidney for her. He goes to the black market and trades his own kidney plus his life savings but still needs money to pay the legitimate hospital bill. So Ryu and his best friend, a cute extreme left-wing activist (Bae Doona), cook up a scheme to kidnap the 4-year-old daughter of a ruthless businessman (Song Kang-ho). As expected in a Korean action flick, everything goes wrong in the bloodiest, goriest way imaginable.

As proven by Oldboy, Park has at his disposal a reservoir of new cinematic ideas when it comes to violence and sex. In one of the movie's tamer scenes, a man torments a woman. He has her tied up with an electric-shock device clamped to her ears. At one point, the takeout food she previously ordered arrives. The tormenter takes a break to eat the food but stops when a trickle of his victim's urine makes its way across the floor and under the Styrofoam box.

While these individual set pieces hit hard enough to make viewers see stars, the film's overall pace flows in uneven fits and starts. Park tries to occasionally give the audience a break with quiet moments and humor, but the breaks seem to come at the wrong time or last too long. Moreover, the film drags on uncomfortably past the two-hour mark. Thus, the extreme gore leaves us feeling drained and hopeless rather than energized. Park's contribution to Korean cinema clearly tends toward the extreme category, and that's fine, but shocking set pieces are not enough. Sympathy for Mr. Vengeance wanders too close, too often, to the middle of the road.
---
Sympathy for Mr. Vengeance (R, 129 min.), directed by Park Chan-wook, written by Lee Jae-sun, Lee Mu-yeong, Lee Yong-jong and Park Chan-wook, photographed by Kim Byeong-il and starring Shin Ha-kyun, Bae Doona and Song Kang-ho, opens Friday at selected theaters.
---
---
Send a letter to the editor about this story to letters@metronews.com.
---
[ Silicon Valley | Metroactive Home | Archives ]