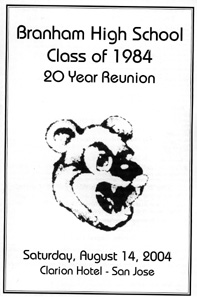 Biter

Friends 4-Ever

Chicken wings, a skinny tie and two deaths—my 20-year high school reunion

By Todd Inoue
---
"Hold on to 16 as long as you can/ Changes come around real soon/ Make us women and men"
'Jack and Diane' by John Cougar Mellencamp
---
I PUT OFF thinking about my 20-year high school reunion right up to the last minute. Most of the cats I'm tight with didn't go to my school (Branham High 1984, represent). But there's no use battling curiosity, which eventually pushed me to wire-transfer my $45 cheapskate fee (which didn't include chicken wings and an extra 90 carousing minutes) the night before, iron a shirt, insert keys into the Honda Civic and drive my reluctant ass to the Clarion Hotel near Fourth Street Bowl two weekends back. The original plan was to show up late, chat for a moment with some friends I haven't seen, then bounce.
But the clouds of wariness parted the minute I stepped in, and I stayed to the end. It was a trip to witness what people are doing with their lives 20 years after the fact. My partners in education deprivation, Jaime and Ron, are as sharp and funny as ever. Class president Jill teaches yoga in San Francisco and does the "mommy thing." My wiseacre homie Gerry is a conservative chiropractor who reads my stuff ("You still work for that liberal rag?" he snorted derisively). A seventh-grade crush is now a jet-setting flight attendant who's lived in multiple countries. "You were always so sweet to me in high school," she kept reminding me. Adam Sandler voice boiling inside: "Information I could have used 20 YEARS AGO!"
Just like Romy and Michelle—the high school reunion stereotypes fit. Time loosened the myths, mystery and waist bands around the most seemingly unapproachable girls. A few were desperately trying to fit 38-year-old figures into Forever 21 dresses. Harvesting hair became a big hobby with some of the guys; for others, it's shoplifting 40 pounds. While the women dressed up, all the fellas—including those who made a killing in the tech, stock or real estate market—were dressed übercasual. My skinny black tie and Ben Sherman shirt had that uptight, Church of Latter-Day Saints missionary look on lock. GQ ran a piece last month on skinny ties. Really! Look it up!
Alas, some people I hoped to see didn't materialize. Elisa, whose sister I had a heavy makeout session with junior year, was at a freaking meditation conference in Marin. Darwin, my Japanese-American brotha who is now a cop—a no-show. Paul, the baddest poplocker in the whole Campbell Union High School District, where the hell was he? I needed updates.
As the drinks and stories flowed, the sober part of the night came when a PowerPoint presentation flashed pictures of classmates who had passed away. There was Rod, whom I used to run into at Club Oasis. He died? And David C., an old soccer buddy. I remember running into Dave at the local pub a couple years ago, nursing a solo drink and a disconsolate look. We talked about where our lives were at that time. He had been through a couple of divorces, baby mama drama, and was trying to get his life in order. Just as he did on the soccer field, I thought he could rebound and find his focus. Ultimately, he didn't, and rumor was that he'd allegedly hung himself just two months prior to the reunion.
I can barely imagine the numbers in 20 more years, when the amount of RSVPs to future class reunions grows smaller and smaller due to miles, jobs, apathy, meditation conferences or death. To my BHS classmates, it was good to see you all. Check you at the next one. And to David and Rod, Godspeed.
---
Send a letter to the editor about this story to letters@metronews.com.
---
[ Silicon Valley | Metroactive Home | Archives ]